Running a company relies heavily on information. New customers and revenue may be generated by listing the company online. It also provides them with a broader view of their customers. However, what is crucial is the content that's shared online. In this case, local citations are pretty helpful. When it comes to achieving the best results and reaching the relevant audience, local citations are an invaluable resource.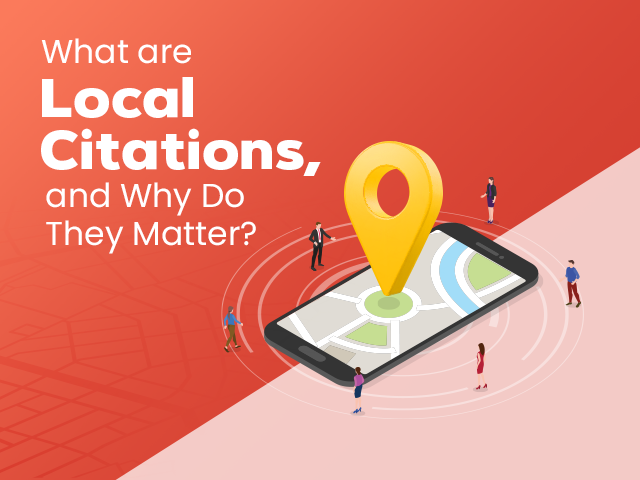 In this blog, we will share with you a brief guide about local citations and how it's a necessary part of SEO services. 
Before we dive in, let's us understand some basics. 
What is Local Citation?
A basic definition of local citations in search engine optimization is a reference or piece of information about a firm. Informative details like the kind of business, where it is located, and how to get in touch with the company are all included in this section. Information regarding a company's name, location, and phone number or the contact information is the most vital (NAP). Citation building allows for additional information, such as operating hours, placed on a map and a website. You may also include company categories, payment conditions, photos, and videos in your local citation.
What is the significance of local citations?
Having many local citations is essential since it helps customers find new companies and affects search engine results.
Much local SEO company in India offer local citation services to businesses. 
Verified material tends to rank higher in local search results. You may strengthen your local SEO strategy by adding local citations to your website. They also aid search engines in verifying the facts about the company.
Boosting the number of visitors who visit your website is possible if your site achieves higher search engine rankings. This generates visitors to your website, which may assist generate new revenue and serve as a brand-building tool. Local SEO services may help you get your company included in different directories so that Google and other search engines can drive customers to you.
On the back of online business directories: When you do an internet search, the first result that often comes up is an online company directory. If you have local citations, you may take advantage of the chances offered by web directories for local companies.
The correct local citations might help you establish a more extensive consumer base by listing your firm in many business directories. As consumers, we want to know whether the firm is legitimate and trustworthy. Directory inclusion with local citations establishes credibility and builds consumer confidence.
Local citations might help raise awareness of your company. If your company is a newcomer to the market, accurate information may help people learn more about it.
Types of Citations 
Structured Citations
Businesses in the immediate area are the focus of structured directories. JustDial, Google Maps, Yellow Pages, and social networking sites like Facebook exemplify structured local citations. You can decide how much information you want to share in these directories and how often you wish to update it. These citations are helpful if you're looking for a company or service in a specific location.
Industry-Specific Citations 
Aside from being categorized as general directories, local citations may be utilized in business-specific directories. To find a doctor in your region, you'd use a medical guide instead of Yellow Pages, which is more generic.
Unstructured Citation 
Unstructured citation is defined as business information on websites, blogs, or other social media platforms. It is not the business that creates these postings. Because of often used terms, they may appear on various websites. Algorithms based on merit or keywords may be used to produce these citations for the company or display them on the website.
How to Create Local Citations?
There's no rocket science to get your local citations up and running. Local SEO services may assist citation building. But when it comes to creating local citations, there are a few considerations to make:
Citation Tools: Various online citation tools may help you create local citations. For example, these tools advise you on the most popular places to advertise your company, such as social networking platforms and general directories.
Local Directories: Local directories will be the best option if you're just getting started with building local citations. These local directories have a better chance of bringing in new customers. Thus it's crucial to become listed in them. If a service is nearby, customers are more likely to take action.
Data Aggregators: Specific directories use data aggregators to get information about your company. Because of this, you need to make sure that your business is listed on the internet, particularly in structured directories. Keep an eye on them to ensure that the data is accurate and up-to-date. You may establish and list your local citations as a last resort.
Data aggregators gather information from numerous web sources and distribute it to other sites. Because they have a far broader audience than regional or business-specific directories, these sites are referred regarded as "data miners."
Customer Reviews: Customer reviews are considered when determining a website's position in search engine results. The material is user-generated and is an ideal venue for local citations. Make it a habit to visit online review sites regularly to see how customers feel about your company. Always verify the accurate information offered by NAP. Using these reviews on your website might also help you get more traffic from review sites.
Using social media to develop citations is a great way to grow your business's online presence. Google picks up any trending information on popular social media sites and uses it to help boost a page's ranking in search results. If you use more than one social media platform, ensure that all of your information is consistent and up-to-date.
Checking Local Citations: How Do I Do It?
You only need to verify a couple of the key online local citation sources, which may be done manually. Big names like Facebook, Google, and local directories would be included here.
Search engines tend to prioritize results from these sites in their search results. Businesses featured in these local directories may also rise in the results with the correct local citations. Ensure that the information on these large sites is accurate since data aggregators prefer to take up these listings and place them on other sites.
To use the automated check, all you have to do is input your company's information. This data is automatically posted to the web and does not need any action on your part. It's also unnecessary to distribute information to a certain website or directory. Because some services aren't free, look at their network partners, tools, and features before committing.
Local citations are an essential part of your internet presence, and neglecting them may bring down your rankings. Having correct citations will have a beneficial influence on revenue and customer trust since this is the fundamental data of the organization. We at Savit Interactive – an SEO company in Mumbai have a broad spectrum of experience in local citations. If you are planning for the same, then we would love to get in touch with you. Contact us today!