If you are an entrepreneur who has newly entered the digital space, you will know that your e-commerce store entirely runs on organic traffic. Going by the statistics, research has proved that organic search brings in more than a whopping fifty per cent traffic with forty per cent on digital revenue
Organic traffic is defined as traffic that takes the user to their desired website through unpaid or organic search results. If you want, you can generate website traffic through paid searches, which is similar to Google search engine marketing. With organic searches, visitors search queries using specific keywords to discover your website on their search engine results pages (SERPs).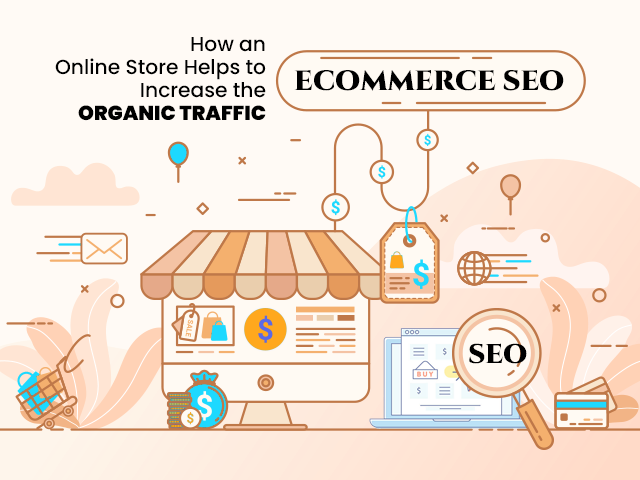 How do Online Stores Generate Organic Website Traffic?
For obvious reasons, brands want to rank as high as possible on keywords searched by the target audience and get ahead of their competitors. As a result, an e-commerce SEO company must incorporate well-designed strategies to boost sales and conversion.
Your website is crucial in e-commerce SEO, as it needs proper navigation so that customers view relevant content. Reduce the number of clicks so that they reach the best portions faster, usually below three clicks. Category and product pages must remain the high authority of the home page, which again must include the significant pages in place.
Increase the Number of Landing Pages
Organisations that have increased the number of website landing pages have seen a fifty-five per cent increase in their leads. Apart from the standard product pages, website landings pages must have targeted content around your services and products. If possible, have landing pages for particular offers and call-to-actions whenever required.
Invest in High–Quality Content
Search engines strive to offer relevant and engaging information to their users, which is why they prioritise pages with the best data for the user's keywords. With an e-commerce SEO company, you must answer your audience's queries about your services and products. Search up websites for good questions, but the internal customer service data is a great source as well. Informative content attracts the attention of search engines, and each content piece on the first page is around 1890 words.
All successful companies have a blog, which is hosted on the website itself. You can drive more organic traffic as it increases the number of pages on your website. They bring in organic traffic, demonstrate brand leadership in the service and product category and are commonly used in an e-commerce SEO company in Mumbai.
Incorporate Link–Building
Backlinks from reputed websites are a significant search engine ranking factor. Partner with influencers from the industries and request them to include a link from your website to their content, or simply see how you can build personalised link-building e-commerce SEO packages. Though it takes time to make organic traffic, your e-commerce store rankings will soar once you reach that level.
Create thorough product descriptions
Product descriptions increase organic traffic for the products with suitable keywords. Also, they must display the product benefits and features for human beings and not search engine bots. The content length depends on their buyer awareness and characteristics—for example, products with lower buyer awareness and unique features with detailed content. The best product descriptions promote favourable website rankings from search engine algorithms for these keywords.
Search Engine Optimisation (SEO) drives organic traffic to e-commerce SEO. This happens by optimising images for SEO, using the keywords in the, optimising meta descriptions and titles and restructuring data for easier understanding by search engines.
By definition, long-tail keywords are specific and more extended. These boost high-quality organic traffic if inserted correctly into blog posts, as they answer audience queries and promote sales.
Thanks to digitalisation, businesses use social media to talk about their brand and services. In addition, social proof validates the customers' purchase decisions through their actions, such as shareable links and customer reviews. This increases website sales and conversion rates while streamlining return to origin expenses.
Ecommerce websites must invest in strategies that boost business productivity, efficiency and success. If you are looking for e-commerce SEO services, contact us at SAVIT.