Does your eCommerce website rank favourably? Does it appear among the top ranking websites on Google search? Only if it does will there be a boost in organic traffic to your online store and improved conversions. Here are the top 6 eCommerce strategies that will get your website to rank higher on Google search.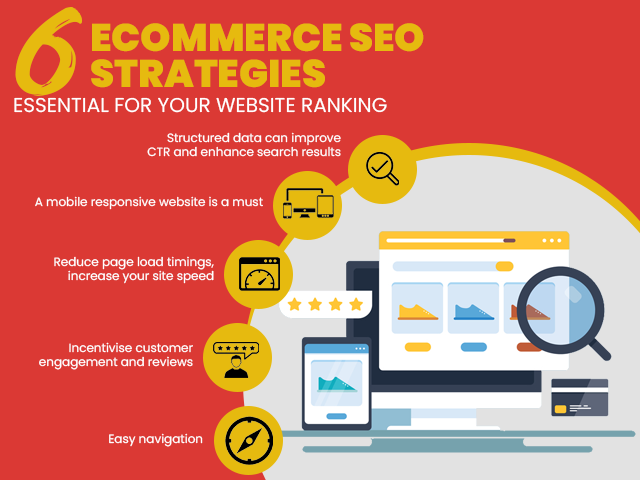 1. Unique And Engaging Product Description Boosts SEO
Product descriptions are the most fundamental yet the most overlooked aspect of eCommerce strategies. When properly utilized, product descriptions can be a potent tool to achieve better rankings on search engines. With the right team helping you from an eCommerce SEO company in Mumbai, you can write unique and specific product descriptions that will strengthen the brand, educate the shoppers and engage your target audience.
Your product descriptions can help you stand out from your competition and build your unique brand identity. By implementing the eCommerce SEO India best practices for product descriptions, your brand and products can achieve higher rankings on search engines, which will then boost organic traffic to your eCommerce website and improve your conversions.
2. Structured Data Can Improve Ctr And Enhance Search Results
For an eCommerce website to become successful, it is important to have structured data on each of its product pages. This boosts the quality of the webpage and allows Google to crawl through and rank the webpage higher than other content-heavy web pages that have unstructured data.
For instance, when you search for a particular product on the internet, you may find search results with product ratings and reviews. You may wonder how Google can have so much information. Well, it's not that Google has this said information, but it manages to crawl into the structured data on eCommerce web pages and highlights the best results. Therefore, it's the webmaster of the eCommerce website that has implemented structured data for each product.
In short, structured data can greatly improve your product listings and make them more visible on Google search. This ensures higher SERPs results.
3. A Mobile Responsive Website Is A Must
With more than 2 billion people having access to high-speed internet on their mobile devices in India, it has become imperative to make your eCommerce website mobile responsive to tap into this vast pool of mobile internet users. Nowadays, it is more important to optimise the mobile experience for users than the desktop experience.
Even Google has made changes to its algorithms, which only highlights websites that are mobile responsive. Therefore, if you don't have a mobile responsive site, you are missing out big time. With the help of an eCommerce SEO company in Mumbai, you can create top-quality mobile responsive sites that are engaging to your mobile audience. A good quality mobile responsive website can also help you rank higher than your competitors among the search engine results.
4. Reduce Page Load Timings, Increase Your Site Speed
Does your website take time to load or is it really slow? This performance of your company/brand website greatly impacts your ranking on Google search. Even if your page manages to rank higher, your visitors will bounce out of your website due to slow site loading and higher lagging time.
Therefore, you must especially focus on creating a faster website with improved speed and reduced loading time. A company that provides eCommerce SEO India services can help you build a robust website for online shopping with faster site speed. This will, in return, help you keep your visitors engaged with the website and greatly enhance your search rankings. It will also provide a better user experience to your visitors and prospective customers.
Google algorithms prefer websites that load a lot quicker. Therefore, a faster website can greatly improve your rankings across search engines.
5. Incentivise Customer Engagement And Reviews
Structured reviews and data place you higher in SERPs rankings. Hence, you need to have more favourable reviews to get better rankings. This will also let you target your happy customers and can ask them to leave a review about the product or the service on the website. You could create an incentive program to incentivise the customers who leave reviews on your websites.
Moreover, you need to also focus on building engagement with the customers, existing, past and future. For any business, repeat customers hold the key. And in eCommerce, incentivisation enables a better response from online customers. Therefore, create an engagement plan to invite reviews and provide incentives for the customers who display active engagement with the company.
6. Easy Navigation
According to most top companies for eCommerce SEO packages, user experience is the most important and yet the most overlooked when it comes to eCommerce websites. If you want more visitor engagement with your eCommerce website, then you need to focus on the user experience.
Prioritize the navigation on your website. Make sure it is easy to use and understand. Easy navigation is one of the best ways to engage the customer. When they know what they are doing and where the navigation will lead them, they will spend more time on your website and may even end up making the purchase. Easy navigation builds engagement and boosts customer interaction.
It is essential to plan and implement eCommerce SEO strategies for better performance of your eCommerce website. If you want to find the best eCommerce SEO packages, get in touch with us at Savit Interactive today.