If you're a company owner, you've undoubtedly heard of SEO by now. If not, SEO stands for Search Engine Optimization. Search Engine Optimization (SEO) is a digital marketing tactic of improving web page ranks in search engines. You might have also heard that SEO is paramount for your company.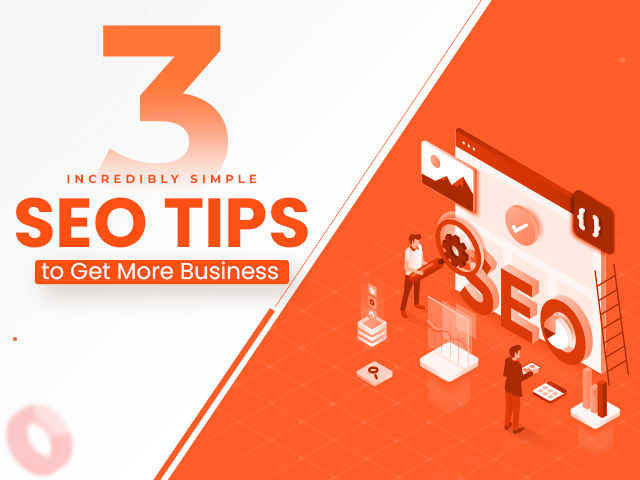 Business owners are interested in having SEO done on their company website but are hesitant to employ an SEO agency or specialist due to the possible expertise. Such apprehension is natural, especially in the time when every penny counts. At Savit Interactive, we have 10+ years of accumulated experience in digital marketing. Our skilled professionals have shared three incredible tips to elevate your business in this blog. Keep reading the blog to know more. 
Keep It Simple & Readable 
Explaining things most straightforwardly is more effective than using professional jargon. Keywords play an essential role in writing the content for SEO. Stuffing the keywords will get you nowhere. Hence, we recommend you avoid using high-level and technical words. The user aims to understand the context and content without flipping through the dictionary. 
Before you start writing or altering any of the text on a website, try to understand:
What does your company do?

Why should people hire you?
Use words that your ideal clients would use to address a critical issue. It can help you get closer to the terms people use while searching. As a result, the content will be more precise, and will include relevant keywords. Remember, simplicity and readability is the ultimate key of knacking a good content. 
Recognize the Importance of Long-Tail Keywords
You now understand that every firm needs a blog regardless of size or budget restraints. What you put on your blog will vary based on your industry and various other reasons.
The use of thoroughly studied and organically executed keywords, on the other hand, is a universal aspect for each blog.
Conducting keyword research may be a complicated procedure (which is just one of the reasons why even startups should hire the best SEO company in India). 
Targeting the incorrect keywords might lead to a waste of time and money. However, choosing the proper keywords might help you enhance your overall online presence. Long-tail keywords are indispensable for companies. 
You'll have a more excellent grasp of those users online activities, putting you in a better position to attract their attention and appeal to their interests.
Instead of targeting a generic search term that refers to one of your goods or services, including that term within a long-tail keyword. If you are a newbie, then hiring SEO services from Pune will bring clarity towards your goal for the business. 
Right Information on Homepage 
Many firms utilize their website's homepage only for aesthetic purposes. While it is vital to focus on design, you want your homepage to operate for you. It is also often your most frequented page and the one with the most backlinks. 
Aside from giving basic descriptive information about your company, the homepage should provide visitors with the opportunity to explore your website.
In SEO jargon, you can accomplish this via hyperlinked words known as anchor text. This content should include keywords that describe what the user will see if they click the link and should be more detailed than "Click here."
The anchor text on a hyperlinked button that a person clicks to accomplish anything, such as "Learn More," "Apply Now," or "Contact Us," is known as a call to action or CTA.
Long story short, if you want to appeal to a big audience in 2022, we recommend that you recognise the value of SEO and hire SAVIT INTERACTIVE – the best SEO agency in Pune who will continue to use all of the SEO tactics that will bring you more business. With a solid ranking, you may gain significant influence while also strengthening your brand. Always keep an eye on updates from Google. Hopefully, these suggestions will be beneficial to your company.