Introduction
If you're like most SEOs, you're always on the lookout for new ways to improve your site's search engine visibility. And if you're not already familiar with People Also Search For (PASF) and People Also Ask (PAA), you're in for a treat. In this article, we'll outline the key differences between these two features, and show you how to make the most of them.
Let's start with a brief
The People Also Search For feature was introduced in 2018 to assist users searching in Google in conducting additional searches if users failed to find the information they were looking for. For instance, a user might search for the term "SEO for beginners" to learn "the basics of SEO." Google will display a number of articles explaining the "Benefits of SEO for businesses," which might not be what someone is looking for. A user can click on these related phrases to locate articles about "how to learn SEO as a beginner" by viewing search terms like "What are the best SEO tips for beginners? " or "What is the foundation of good Seo? " In the People Also Search For snippet.
It enables Google to enhance its search outcomes and assist users in finding what they're hunting for. Because Google's primary objective is to conclude a user's search experience as soon as possible, By doing this, Google becomes more appealing as a search engine, and users tend to use it.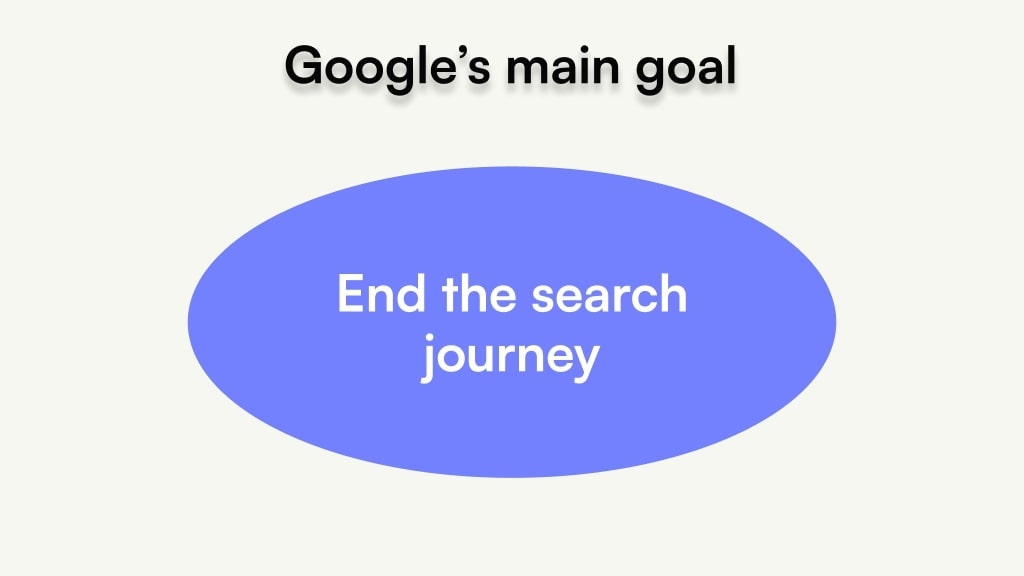 The People Also Ask (PAA) Box, on the other hand, is a question-and-answer section that aids users in discovering more information about the topic users are looking for. It frequently provides brief answers to queries connected to the user's initial search query, along with a link to the website where the answer was discovered. The People Also Ask section offers a fair overview of additional related Google searches that people frequently do.
Hope we are clear with the basic concept of PASF and PAA, let's get deeper into what People Also Search For, and People Also Ask term is, other Google featured snippet types, how to rank for these kinds of keywords, and more.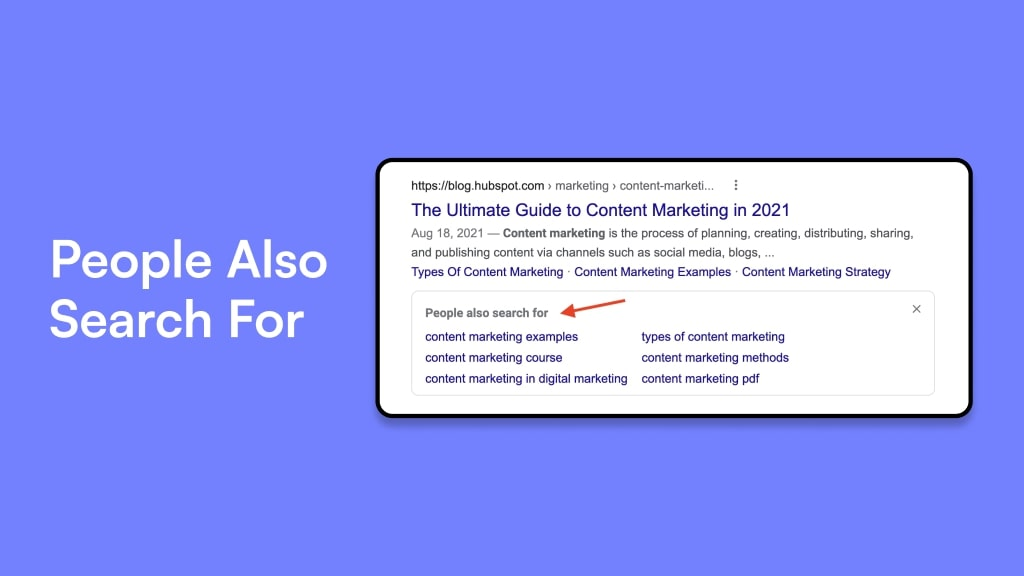 What Is People Also Search for (PASF)?
People Also Search For (PASF) is a Google Search feature that shows you related search terms that people also searched for on Google. This can be a great way to get new ideas for content, and to see what other people are interested in. You can find the People Also Search For box by performing a search on Google, and then scrolling down to the bottom of the results page. The box will look something like this: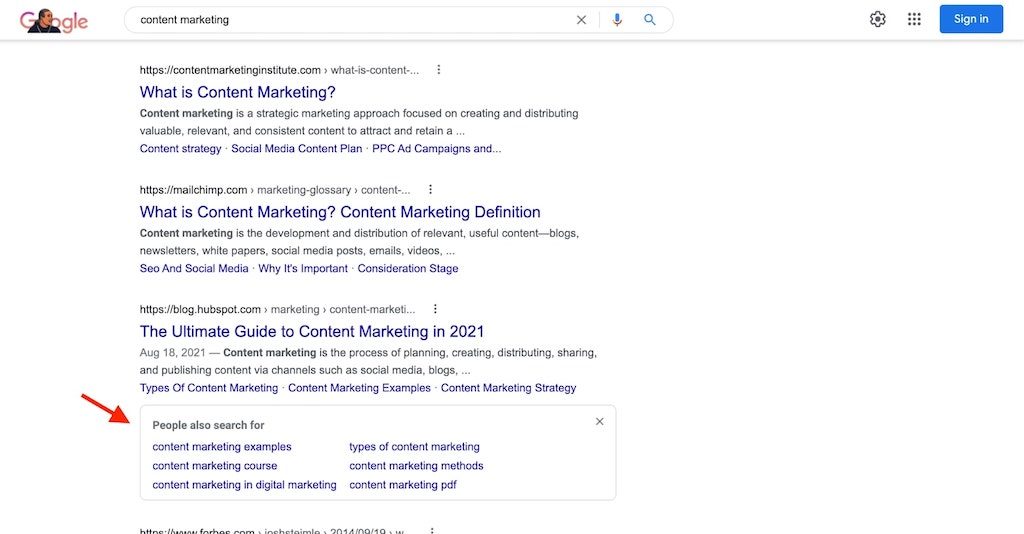 The related terms that are shown in the box are based on data from Google's search engine. So, the terms shown here are what people have been searching for recently on Google.
What does Google say of the box called "People Also Search For"?
Google hasn't stated anything in the market about PASF. What is known is that this function was first introduced in 2018 to enhance the user search experience. Google often provides the latest featured snippets within its search engine as it continues to develop new ways for people to get results to their searches and is meant to provide users with additional related information or options that they may find useful.
In other words, if you search for something like What is SEO, you might see a People Also Search For box with results like "what is SEO and how it works", "SEO for beginners" and so on.
It's clear from these statements that searchers are looking for quick answers when they type in keywords into the Google search bar. Therefore, SEO marketers can benefit from understanding how to optimize their content for the People Also Search For box if they want to be successful at gaining organic visibility across multiple terms and queries.
What Is People Also Ask (PAA)?
Google first introduced its "People Also Ask" (PAA) box in 2015. People Also Ask (PAA) is a SERP feature to give users more answers to their questions right on the search engine results page. It works by showing a carousel of related questions at the top of the results, which users can then click on to view more information. So, what does this mean for SEOs? It means that we need to start paying attention to PAA and making sure our content is optimized for it. That means providing answers to related questions, and making sure our content is accurate and up-to-date.
People Also Search For (PASF) vs People Also Ask (PAA)
Keywords categorized as "People Also Search For" are those that users continue to look at after performing their original Google search. Whereas, People Also Ask (PAA) are questions that are connected to a particular term that people are asking.
These are the inquiries that PAA populates for the context of "What is SEO"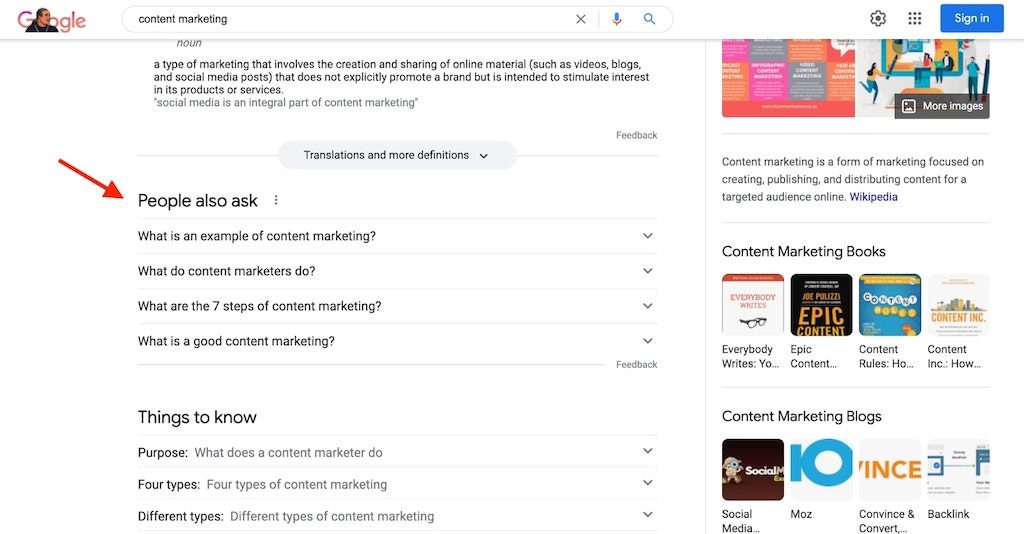 These are more like queries individuals have about a subject than keywords generally. Finding material and blog post ideas to pursue might be easy with the help of the People Also Ask section. You'll notice that Google's SERP is frequently updated with fresh search results. Apparently, this is due to Google's objective of swiftly ending a user's search journey. This guarantees a positive user experience for people who are using Google as their preferred search engine.
How to Rank for PASF & PAA Keywords
There are a few important approaches to take into consideration when trying to rank for People Also Search For and People Also Ask keywords.
1. Using simple language in your content is the first step. If you're writing about a certain subject, be careful to use terminology that Google users would use. This entails being extremely detailed and providing precise facts rather than just basic knowledge.
2. Additionally, you must make sure that your content is thorough and informative. Make sure the answers are in your content since people look for specific answers to inquiries.
3. In terms of keyword optimization, it's crucial to target long-tail keywords that precisely match the subjects and inquiries you're addressing in your content.
By doing this, you can increase the visibility of your material on search engine results pages, improving your chances of being ranked for both People Also Search For and People Also Ask keywords.
Tips on How to Create Content That Ranks for Both PASF & PAA
Are there any pointers to help you generate content that ranks for both People Also Search For and People Also Ask?
Absolutely! Here are some things to remember:
– Take into account the queries that are probably being asked. Because Google People Also Ask and People Also Search For use distinct algorithms, it's important to concentrate on issues that apply to both.
– Produce content with lots of information. The content that is produced for the SERP feature must be thorough enough to answer all of the user's queries.
– Make SEO-friendly content. Ensure that your content is SEO friendly first and foremost because it can be challenging to optimize for both PASF and PAA.
– Make sure your content has clear headings. This makes it simpler for readers to browse and quickly find the information they're looking for as well as for search engines to understand and process your content.
– Update your material in accordance with updates to SERP characteristics. Maintaining awareness of Google's updates will assist you make sure your content is continually optimized for the newest trends and SERP features.
Tools to find People Also Search For keywords
As an SEO, you may be wondering about the best tools for finding People Also Search For keywords. Well, the answer is that there are quite a few options available.
1. The first tool you might want to try is Google Trends. This is great if you need some inspiration for related topics and keywords to include in your content. Simply search for some relevant keywords, view the related terms and see which ones are trending and have high search volumes.
2. Another great tool is SEMrush's Keyword Suggestion Tool. This tool can help you discover more search terms related to your target keyword and get insights into their search volume and competition level.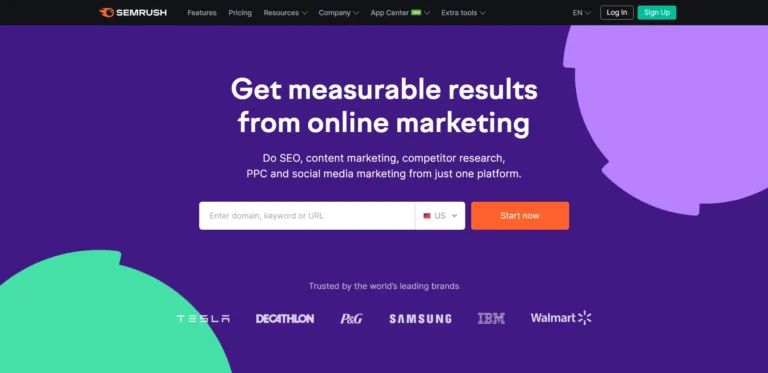 – SEMrush can examine any website or SERP for its domain name, backlinks, traffic, social shares, and other factors. It makes it simple to identify appropriate keywords because it enables you to generate long-tail keywords using the drop-down choices at the top of the page.
– You may also find out how frequently that keyword has been searched, how frequently it appears on Google's first page, and how frequently it appears on Google's second page.
3.You can also take a look at Google's Search Console to find out which queries are bringing people to your site – this will give you an idea of what people are looking for related to your niche or product.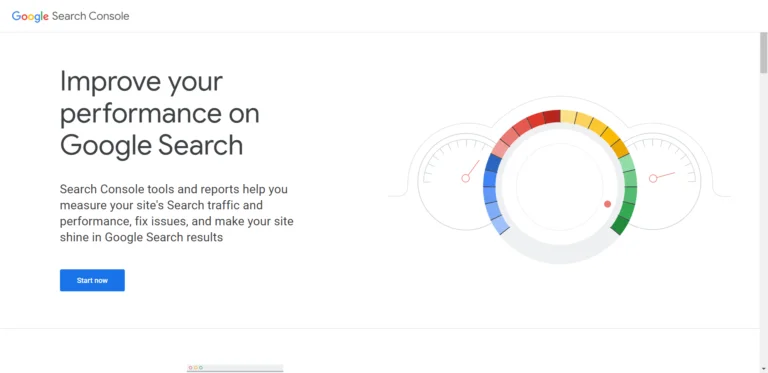 – Observe how Google Search Console ranks your website. Use this data to discover the terms that are most effective for you right now.
– Investigate the navigation of your website and the most popular pages. This will enable you to enhance certain pages' functionality.
– Instead of just attempting to rank highly overall, adjust your website based on user behavior so you can concentrate more on the areas that are actually bringing traffic to your website.
4. Ahrefs is a well-known SEO (search engine optimization) and keyword research tool. You only need to visit Ahrefs' "Keywords Explorer" to discover relevant keywords. You will see this after typing a keyword, "what is SEO":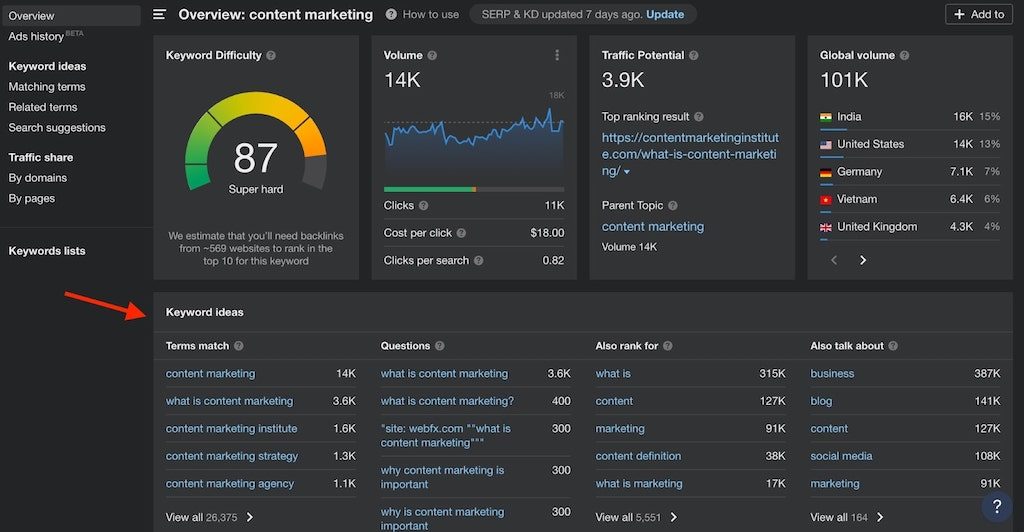 As you can see, Ahrefs provides results that go beyond People Also Search For (PASF) keywords. Additionally, it will display a wide range of other keyword suggestions as well as items like "Questions," which are taken from Google's People Also Ask (PAA) database.
Conclusion
PASF and PAA are two distinct Google capabilities that you should take advantage of as an SEO. While PAA can assist you in understanding the queries people are asking about your good or service, PASF is an excellent approach to explore what additional topics your website might rank for.
These two elements are crucial for knowing your target audience and making it easier for them to locate your website. As you continue to optimize your website for Google's search engine, be sure to take advantage of them.
Above all, here at Savit Interactive, we specialize in SEO, SEM, SMO, and o much more. If you require SEO services or any other service for your website, Contact Us, and we assure to make your site visible easily.