Google Adwords is an effective tool for online paid advertising. Numerous small, medium and large scale businesses utilize this advertising medium to market or promote their services and products.
Interestingly, all businesses have a common objective. Everyone wishes to successfully be visible to the millions or more people accessing the internet daily and advertise their services and products to them. But very few know the right way to use Google Adwords to boost their business. With the help of a trusted Google partner in India, you can make the best use of Adwords for your business. Here are the top 7 strategies to boost the business through Google Adwords.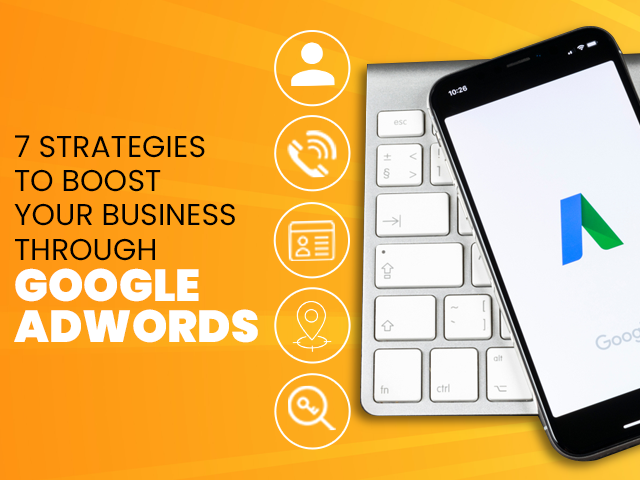 1. Create a Google My Business account
The Google My Business (GMB) account allows online searchers to easily find your business on local searches as well as Google maps. Opening a GMB account is free, therefore, you can make the most of these services. Additionally, you can manage it easily and can control your presence among local searches in the most appropriate way.
With the help of a Google Adwords agency in Mumbai, you can create a Google My Business account and enhance your local presence. This will improve your rankings in local searches. Thus, providing better visibility and increasing footfall to your business, which will boost your conversion rate and profits.
2. Utilize "call-only" campaigns
Google Adwords might not be your top online advertising tactic. But it provides you with the best opportunity to create more leads with the help of paid online search. And is very helpful for the local businesses.
Google launched the "call only" campaign in 2015; it was designed to highlight only the searches through mobile devices. The main aim of this campaign is to generate increased phone call leads or inquiries for the business. This is beneficial for businesses because it further funnels the searchers and allows you to get access to refined organic visitors that are more likely to do business with you.
Businesses can create the right "call only" ad campaign that allows you to get top-quality leads from local searches. This will boost your inquiries and further improve your conversion rate.
3. Highlight your contact information with location and call extension
If the main conversions occur in the store, the primary objective of the Google Adwords campaign must be to direct the organic online traffic towards the store. With the help of a renowned Google Adwords agency in Mumbai, you can highlight the right contact information on your GMB page, so that local searchers can find you. By highlighting the right location, you influence the online audience to visit your store to check out your product offerings.
You can leverage your Google Adwords account to create local extensions that provide you with better visibility among the local searches. The ultimate goal should, after all, be to drive more visitors to your business.
4. Ensure correct location targeting
This may feel like a pretty obvious suggestion. After all, every business would want to put the right location. You will, however, be amazed to find that many businesses have tagged the wrong location on their GMB account or on Google Adwords.
To create the right ad campaign, you must mention the exact postcode, address, and the local area of your business. This helps you to attract more footfall.
Since most of your target audience is online on their mobile devices at most times, tagging the right location on Google search can influence people to take action and visit your store. Moreover, proper tagging builds brand credibility and aids in improving the conversion rate at the store.
5. Remove negative keywords
Ensure there are no negative keywords as they direct incorrect or invalid visitors to your business. Invest in the right keywords that drive the right type of customers into your business. For example, if you own a restaurant business and want to target food-loving consumers, then keywords targeting job seekers may provide you with negative leads. Therefore, a "restaurant jobs" keyword might never prove effective when you want money paying customers to visit your restaurant.
With a Google Adwords agency in Mumbai helming your ads, you can opt for the right keywords and remove the negative ones to focus on a specific set of target audience that boosts your business. Removing negative keywords helps to funnel down the organic visitors and helps to gain more genuine customers through the right use of keywords.
6. Utilize location-specific ad extensions
For your local target audience, local means friendly and convenient. Simply put, going local is a big advantage for a business. Therefore, make sure that your target audience comes to know that you have a local presence. Your Google partner in India will be able to assist you in doing this.
You must create local-specific extensions to your ad campaign that highlights your location on local search results. This way, you don't just rank higher on local search engines but all improve the probability of online visitors taking action and visiting your storefront.
7. Optimize your landing page
If you have taken the effort to create a perfect Google Adwords campaign but your website is slow and has an unappealing landing page, the visitors coming to your website may not convert into sales. Instead, your visitors will bounce off your site and go to competitor sites.
With the help of a Google Adwords agency in Mumbai, you can create an attractive landing page that is faster to load and easy to navigate. This way you could engage the customer to your website, drastically reducing your "bounce out" rate. With a robust website, you can provide them with the desired information and influence them to visit your physical store.
To find the best Google partner in India, visit Savit Interactive today. Our expert teams will assist you to take your business to the world through Google Adwords.