Businesses still see LinkedIn as a simple job and resume posting online platform. However, things have changed drastically, especially for the B2B businesses. LinkedIn is rapidly transforming into a top lead generation social media platform.
Here are the top 5 LinkedIn marketing strategies listed by leading digital marketing companies in Mumbai, which are actively used by many businesses in the year 2021: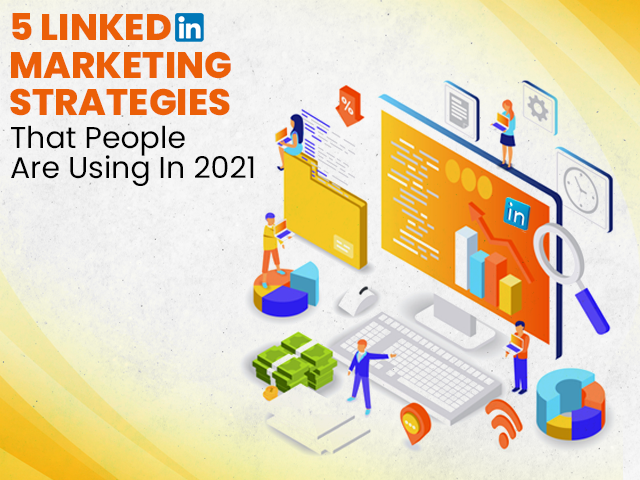 Share company content on LinkedIn
The revamped content tool by LinkedIn allows businesses to engage with other companies in their domain and share various information in a professional setup. An article on LinkedIn on the news feed could be the best way to gain the attention of viewers and boost your brand identity. Plus, it is an effective way to reach out to your followers, prospective clients or prospective employees.
Today, content marketing is a crucial marketing strategy for businesses. However, most companies fail to take advantage of this exposure by publishing posts regularly on LinkedIn. For instance, if you publicise or write weekly articles or posts on the company blog, make it an appointment to share those articles on LinkedIn to repurpose the content as LinkedIn articles for the company.
Likewise, if the company is on a growth trajectory or is about to offer new services or products, you could put forth and publish a press release and then share it on LinkedIn. Also, you need to update the company page on LinkedIn to reflect the updates or changes made by the company.
LinkedIn also supports native content video. With the help of the best digital marketing franchise opportunity in India, you can share videos of the company and their products or services. As a result, you can attract the attention of online viewers towards your brand.
Run retargeted ads for your online visitors on LinkedIn
LinkedIn has begun offering B2B advertising and social media advertising options compared to different social media platforms. With the help of their Matched Audience Tool, LinkedIn allows businesses to retarget people who've previously visited their website. Wherein, companies can even pay to reach out to a larger group of target audience on LinkedIn. This enables businesses to tap into the prospects available on LinkedIn, which are a better fit for the sales funnel.
With the help of digital marketing companies in Mumbai and LinkedIn ads, you can even add email contacts whom you wish to target with the ads. Thus, with the assistance of a digital marketing company, you will come to your target audience and the reach of your ads.
Set up your company page on LinkedIn
According to the top digital marketing company in Mumbai, every LinkedIn presence possesses a distinct advantage if they set up a company page on LinkedIn. A company webpage on LinkedIn allows the company to create its own space in LinkedIn, where it can share, post, and comment and even like the content of other people.
Plus, it allows the company to promote their brand as a different entity from its personal LinkedIn profile page. It is free, easy and straightforward to create a company web page on Linkedin. First, however, you need to ensure that the cover image, logo, SMO services and the company description match the brand.
Updated linked marketing blog
The LinkedIn marketing blog often publishes its custom-curated articles to help businesses learn effective marketing strategies and SMO services on the LinkedIn platform. By routinely following the updates on the LinkedIn marketing blog, companies can learn about the toolkit of the forum and keep themselves informed about the new features and updates. In addition, businesses can also benefit from great resources like the LinkedIn Sophisticated Marketer's Guide, which provides all the information you need to begin using the marketing strategies on the linked platform.
LinkedIn Inmail offers 2.6 times response rates
According to a top digital marketing company, Inmail is slowly becoming the most preferred tool for businesses actively doing social media marketing on LinkedIn. InMail may not be free, but the cost is worth it.
With the help of LinkedIn, companies can directly reach out to and contact any of the more than 580 million LinkedIn users. Also, there are no limitations to the number of people whom the business can contact monthly. LinkedIn also monitors the response rates of Inmail, which are 3 times more than the traditional emails. Moreover, InMail does contain analytics that allows you to finalise the ad tactics and spending.
If you want to find the best digital marketing company or digital marketing franchise opportunity in India, you must visit SAVIT Interactive today.