It is 2021, and you are bound to have an online business presence if you want to be successful. Staying on top of the search engine results page helps you gain leads, add customers and promote your business. Now, this is not an easy task but it must be done if you want to stay ahead of your competitors. Your goal is to stand out among hundreds of other brands that offer the same business, products, and customer service.
How do you tell your customers that you are the best out there?
Optimized content




SEO that works




And, an understanding of what works for your brand
Also, have a look at these SEO facts that we have curated for you. When you start working with an SEO company these and other SEO statistics will help you: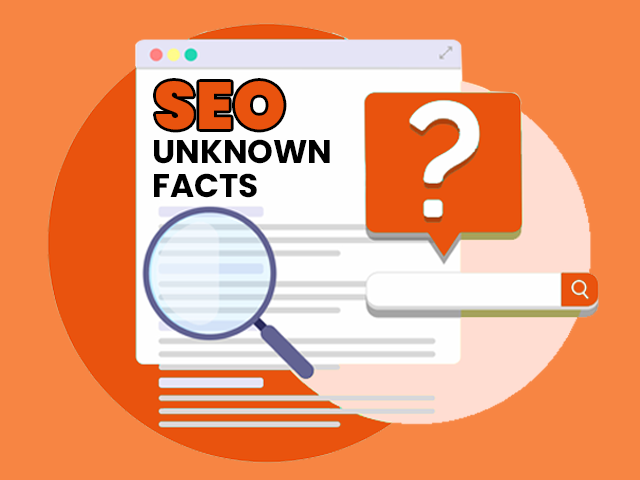 1. 93% of online activity starts with the search engine.
You might not even realize this, but the first thing you do when you want to check something out is to search it up online. Looking for a new laptop? Want a Margherita pizza? Searching for Valentine's Day gifts beyond flowers, teddy bears, and chocolates? Going on vacation? Want to check the news?
No matter what you do, the internet is at your service. As you browse through the screen, how do you choose which one to go for? What is the best choice?
That is what the internet tells you. How? It is called SEO, also known as Search Engine Optimisation.
2. 46% of Google searches are local
People look for local information all the time, and around 46% of Google searches are for local goods, grocery stores, establishments, and weather. Local SEO, thus, gives your business a major boost, as customers know what and where exactly your business is.
3. Among the social media posts shared every month, about 480 million of them include location/GPS information
Location info sharing is an advantage for local SEO. Organic user shares happen when consumers are satisfied with a product or service. Then, they share their experience and/or rating with the location, making such ads incredibly powerful to boost traffic.
This kind of organic traffic is, however, unlikely without prior SEO investment. Statistically, over 50% of global internet traffic is routed through mobile devices. To find your website on the first page, search optimization for mobiles is mandatory.
4. Blogging gives 13 times more return on investment
Search engine marketing statistics say that marketers who prioritize blogging are thirteen times more successful in investment than their counterparts.
5. 82% of consumers enjoy relevant content from favourite brands
Customers love reading blog posts, which helps brands maintain great customer relationships, cultivating a brand image, generating leads, and increasing profits.
6. Updating and republishing existing blog posts increases organic traffic by 11%
SEO traffic generation your existing blog increases by 11% by tweaking and republishing content with trending keywords.
7. Companies that blog receive 97% more links leading to their website
High-quality content motivates people to pose backlinks to your websites, which accounts for 97%, to be exact. Around 61% of people are inspired after reading a blog post to avail of your services – thus, improving search engine ranking, generating leads, and promoting customer relations.
8. 76,282 Google searches are performed every second
On average, Google processes approximately 80,000 search queries each second. This boils down to 70 billion Google searches per day with 2.4 trillion searches every year worldwide.
9. Google generates 21.96% of mobile search traffic
96% of mobile search traffic is performed on Google alone, as millions of users depend on it. Around 63.99% of the top-ranking websites have external and internal links, which forms a major part of SEO. Furthermore, adding "because" to outreach emails boosts the response rate by 45%.
10. 300% more website traffic is generated by search engines
Yes, social media or social networking is a popular way to introduce a new audience to your website. However, Google, Bing! and Yahoo drive 300% more traffic as compared to social networking. Engaging content works far better than we think in terms of bringing business than posting on social media. We would say, maintain a healthy balance between good old SEO 2021 and social media posts. It is beneficial to be regular with both.
11. Google receives approximately 40-60 billion searches per month in the United States
As per Moz, Americans use Google to make around 3.4 searches per user every day – adding up to 40-60 billion searches every month, as calculated by Google statistics.
12. What is the second-most popular search engine? YouTube.
If you are not on Google, you are on YouTube. As part of today's SEO trends, people spend hours watching their favorite content creators eat, travel, and live the best life by typing in their daily searches. Owned by Alphabet Inc, which owns Google as well, it does not have to worry about competitors at all.
13. You would find 236.5 million search engine users in the United States
As per Statista, 236.5 million people use search engines in 2019, which is a whopping increase from 213.6 million in 2014. That's not all, the number of search engine users is expected to grow further in the next few years – which would reach 239.1 million. On average, nearly every adult in America uses the internet.
14. 14.6% of leads generated through SEO get converted into profits
Speaking of the power of SEO, websites with the right search engine optimization see more customers than those who rely on conventional strategies such as print advertising and email. Seeing that most of us do not check promotional mail or simply glide an eye at hoardings on the roadside, SEO promises more paying customers, multiplied by eight times as compared to other sources of advertisements.
15. 21% of Google users look through multiple results when searching
As per search engine traffic statistics, around 25% of Google searches result in more than a single click. Thus, this emphasizes a higher ranking on Google, as most people only click the top few results.
16. 93% of mobile-device users click on the first set of results while searching for "places near me"
Around 60% of the traffic would agree to check out the first couple of search results while conducting "places near me" searches.
17. 70% to 80% of users don't check paid advertisements
Apart from great content, lead conversion and website traffic are important. In these cases, paid advertisements aren't appreciated by users who are looking for information.
18. 50% of search queries use (more than) four words
People search for stuff with longer keywords (four words or more in their searches), moving over one-word, two-word, or three-word searches – remember this for your next SEO strategy.
19. Google receives 16% to 20%
About 25% of daily Google searches have unique questions or keywords, and Google must modify its algorithms accordingly.
20. 75% of searchers do not check past the first SERPs
Though most of us know this from first-hand experience: usually, people don't go beyond the first page of Google results. Most internet users only focus on results listed on the top half of the first page, with the remaining only passing by the second and third.
21. Mobile searches are much more popular
Around 31% to 41% of desktop searches don't get many clicks. Searching regular searches on smartphones gives users the information that they're looking for, which constitutes 57% of all searches.
22. Only three% images achieve Google search clicks
As published by Moz, less than 10% of clicks are for Google images.
23. Only 8% of searches are entered as questions
There's a reason why we use keywords in our content strategy, as nobody uses questions anymore. There are only 8% of people who enter full questions in the search bar, which still holds important for SEO optimization.
24. Voice searches constitute 50% of all online searches
More than half of online searches would be conducted by voice, as soon people get more comfortable with it.
25. 36.61% of mobile searchers prefer a local business that has a mobile-friendly website
Now that most of us search for our favourite food, a tourist hotspot, and celebrity on our mobile devices, our website must rank higher on the SEO table. Search engine optimization on the website will encourage more users to contact you since it is much easier to navigate.
26. 41.30% of mobile queries are about location
You might have the best café, yoga business, or business out there, but what if people can't find it at all? Location accessibility is important, you must optimize your website for that as well.
27. 57% of B2B marketers believe that SEO generates more leads than their counterparts
Top B2B marketers know that SEO leads to successful marketing strategies when executed well. Around 87% of users research a product online before buying them online or at a physical store – thus, more revenue.
28. Revenue rates increase by 32% if the webpage loads by two seconds.
Everybody wants a responsive website, and nobody has time for a slow website. There are thousands of other websites to visit, so impatient customers won't take a minute to leave. Bounce rates increase by 50% if the website takes an extra two seconds to load.
Here are the most interesting and surprising facts that can keep your brand on top of the page, all with a little technical SEO knowledge. If you are looking at high-performing SEO companies, reach out to us at Savit Interactive — India's best SEO agency.