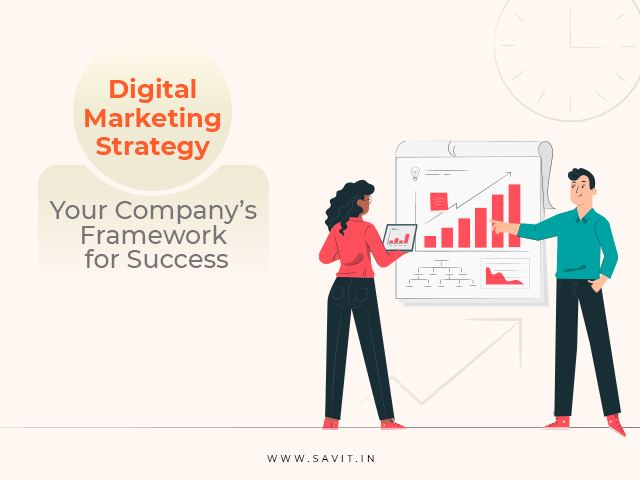 Nowadays, a significant part of the marketing strategy of a business has become digital. Customers and brands are always online, more responsive, and always on the go. As a business owner, you would like to learn about your consumer's behavior online and where they are likely to spend time online, then lay out a digital marketing strategy accordingly. Due to your growing business, understanding the digital market is crucial to stand out in the digital landscape. The ever-changing digital media can sometimes become quite overwhelming, along with several other roles and responsibilities you have to perform. The best digital marketing strategies are essential to maintain an excellent digital presence and stand out from the crowd in a digital landscape. Before that, getting basic know-how about how digital marketing strategies work and how you can benefit from them is necessary.
In this fast-paced digital world, it is essential to keep up with the pace and stand out from the competitors. To craft the best digital marketing strategies, it is necessary to get expert guidance and advice from the best SEO company in Mumbai, Savit Interactive. We are a team of expert professionals who have extensively researched digital marketing strategies and prepared this guide to give you an overview of digital marketing strategy.     
Importance of digital marketing strategy in today's world
A proper strategy helps you give a sense of direction. Conducting digital marketing activities without clear strategic goals makes it hard to measure marketing activities through analytics and makes it difficult to allocate sufficient resources to individuals in an entity. Due to this, it becomes difficult to understand whether you can hit your targets or not. If you are starting your business, then you have to plan out a digital marketing strategy that will align with your business goals. If your business is new, craft strategies similar to the digital marketing strategies for startups. To stand out in this competitive space, it has become necessary to develop excellent strategies and campaigns aligning with the current fast-paced market trends.    
An Ultimate Guide to Create Digital Marketing Strategy to Improve Your Online Presence
Goal Setting
Goal setting is crucial, and while churning out the best digital marketing strategies, you must understand your marketing goals. Try aligning your marketing goals to the fundamental goals of your business. Your marketing goal should be viable to generate leads that can increase the percentage of clientele in your business. 

Target Audience
Before, crafting any digital marketing strategy, it is essential to understand the target audience's psychology, demographics, and online behavior of your new customers. Numerous factors lead a potential customer to purchase the service or a product which increases the conversion rate, brand awareness, and education are pretty important. If you want more insights on strategies that can double your conversion rate, read SEO Strategies To Boost Ecommerce Sales to get additional knowledge. 

Content marketing and buyer's persona
Effective content marketing also plays a vital role in having a keyword strategy in place and in planning the continuous optimization of your content. In digital marketing, developing a buyer persona is beneficial as you should know who are you communicating with to know whether there is a mutual interest to the person with who you are speaking. If you have had success with a particular group of individuals, then target them! Get factual information through tools like Facebook audience insights and Google analytics. 
Conclusion
Acing in the digital marketing space is becoming difficult day by day. To address this problem, Savit Interactive has taken a step dating back to 2004 by providing all sorts of SEO services. From Search Engine Optimization to Influencer Marketing Services, Savit's expert knowledge resource in a team filled with professionals has helped several brands ace their digital presence.