When you have your website at hand, it is time that you start ranking high on the search engine results. This helps your business grow by driving more traffic and increasing revenue generated in the long run, but by organic traffic, growth, and visibility. In the end, your major growth is to gain organic traffic to your website, bring in an audience, convert leads to sales and boost the ROI of the SEO strategy.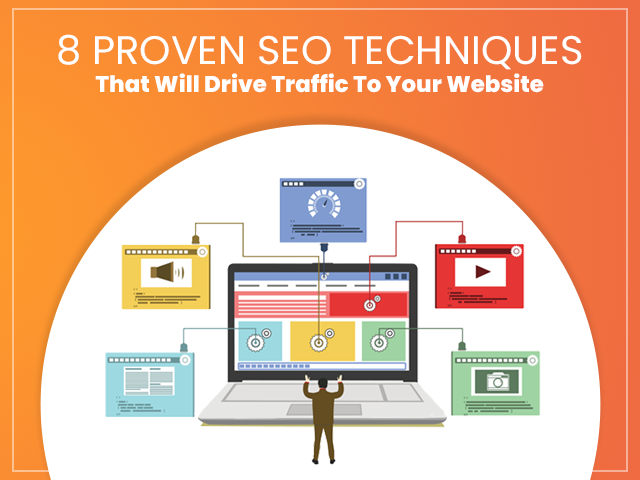 In this article, we shall be talking about eight SEO techniques that shall help you gain the attention that you need. Hence, you shall be moving towards growing your business:
Increase quality content production
Post quality content that contains organic keywords and your aim should be to answer the audience's questions. Webpage rankings are influenced by the content's relevance to the readers' search queries, so make sure to post frequently. You should also look for long-tail keywords that fit well with the article instead of merely stuffing keywords for the sake of it.
Coming to the second part of the subheading, Google Analytics offers insightful data about your website; the most popular pages, and visitors. The next time you sit down brainstorming over the content and promotional strategies, see what brings traffic to the doorstep.
Make easy-to-read content
An SEO company can optimize content for easy readability, high organic ranking ideas, grammar, and delivery. Use shorter paragraphs with three to four sentences, and each paragraph should focus on one idea. Otherwise, the content will start looking fragmented as you jump from one point to another. Mixed sentence lengths are another point to consider as longer sentences can be difficult to follow while shorter ones seem staccato after a while.
Use headlines
Like paragraphs, informative subheadings divide the content into easily-digestible chunks that help the audience understand the main context. Data should be listed out in bullet points as far as possible. For example, statistics, ideas, and facts. Excessive text can also overwhelm your audience so include videos, photographs, and graphs for visual relief. Screenshots further illustrate the ideas that you are discussing to subdue the content's complexity.
Keep trying out new things
Use SEO tools that constantly churn out less-thought-of topics as that would increase the reach of the website, the keywords you are using, and the traffic that you are getting. Focus on getting a brand-new audience every six months or so, by collaborating with a contributing guest author who enjoys a huge fan following.
Search Engine Optimisation
An SEO agency in India can still optimize content if businesses want to stay ahead of their competitors, and it does not stop there. Are you looking for internal linking, linking to credible sources, image alt text, meta descriptions, and much more than that to skyrocket organic traffic? SEO is the key!
Promote yourself on social media
Once your content is done, use your social media channels to promote your website. If you are a B2B company, choose Twitter and LinkedIn to display your unique selling point between the professionals. Image-oriented social media sites such as Facebook, Instagram, and Pinterest are preferred for B2C brands.
Guest authoring/guest blogging
Guest authoring on an authoritative and high subscribership website is a great way to promote your blog at the end. Thus, new readers can find your website more easily. Moreover, you will be regarded as a credible source of information due to your association with high-performing websites.
As you gain popularity among your readers, ask them to guest blog on your website as well. Your readers will enjoy the fresh perspective and depth, as long as you have comprehensive guidelines of what to expect when submitting an article. Have a checklist of requirements that only rank original and high-quality content, and sniff out spam or broken links. You can leave a link for guest authors to contribute their pieces on, or ask them to contact you through the mail.
Interview industry leaders and host webinars
Thought leaders are always happy to share their expertise, so send them an email request for an interview and publish them on your website. You will enjoy the instant recognition that it brings to you and your website, and you could even ask the interviewee to share the interview, further escalating its potential. As you grow popular, host webinars with a great promotion campaign. Record your webinars for future viewing and let them free on social media to promote themselves.
There are thousands of SEO techniques that could make or break your website, but you must keep experimenting to see what works. If you are looking for the best digital marketing company in India to help you out, mail us at Savit.