The one thing that separates you from Digital marketing company in India is Search Engine Optimisation, especially if you have just started working on a website. Simply put, it means to rank among the top five results on the Search Engine Results Page (SERPs). Now, you do not have to try out every software there is on the internet. You should have a list of SEO tools that fit your business purpose and interests your target audience as well.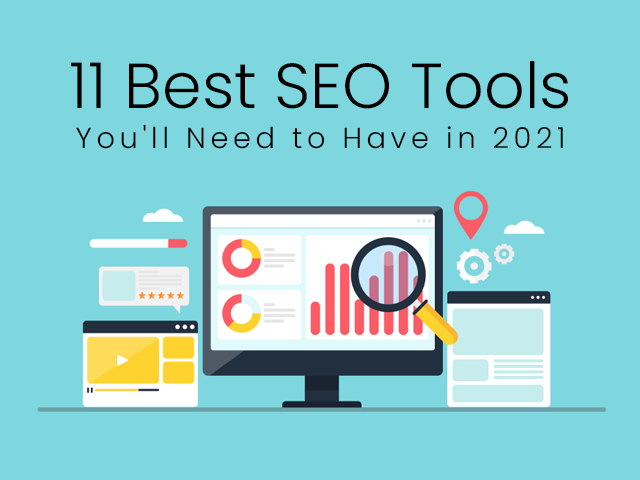 SEO, in some ways, resembles a puzzle where you need to fit the pieces together to garner attention and traffic on your website. The first thing to remember is that people rarely check beyond the first page of results, and that is where your brand SEO is important. If you are not interested in mindless data analysis and keyword research, you are going to need SEO. They tell what is working (or not) on your website, measure performance by categories, your position among the competitors, and accurately assess performance even if you have more websites under your name. Sounds interesting? Let's take a look:
Google Search Console
Google Search Console monitors your website presence on the search engine result pages of Google, by using Google Analytics or adding codes to your website. It optimizes new websites for improved performance to rank better in Google search results, as it enables owners to submit webpages for search indexing and other resources.
Keyword Planner
As the name suggests, Keyword Planner is a great tool to create stronger keywords that seamlessly integrate into Google applications. This is equally helpful to SEO Services that buy Google Ads, because of their configuration tools.
KWFinder
Another keyword-friendly tool, KW Finders searches for long-tail keywords enjoying low-level competition among other brands. Thus, you will always have the popular keywords and analyze their results on SERPs and backlinks. They have a Rank Tracker tool, which determines your website ranking and offers new keywords to use on your site.
Google Trends
An under-utilized platform, it offers information on trending topics and keywords according to your business. Type in any keywords and you will receive insights on geographical locations, interest over time, top queries, and rising queries.
Google My Business
Local SEO remains important, so use this SEO tool to create and edit business listing information and interact in real-time with potential customers.
Answer The Public
Have you run out of topics to talk about on your website? This tool helps you find novel ideas for your blogs and websites. You can create interesting content using specific content for better ranking and works for all kinds of topics ranging from technology, skincare to travel.
Ahrefs
Ahrefs analyses and tells you what improvements you need to make to your website for better ranking in SERPs. You can gain insights into your competitors' backlinks to grow your brand, the most popular content in your niche, and fix broken or suspicious links. You also get assessed on which page on your website is attracting the highest number of visitors.
SEMRush
This SEO favorite enables users to assess rankings, recognize changes and find the brand the latest ranking opportunities. The Domain V Domain feature compares your site to competitors to understand your site's traffic, search data, domains, keywords of your competitors that may be in the same niche. Thus, you will know where you rank on the list and how to better your site's performance.
PageSpeed Insights
Easily integrating into other SEO tools, PageSpeed Insights reviews your website's performance on mobile and desktop platforms and gives suggestions on ranking higher on both.
Ubersuggest
At the top of most SEO companies' list, Ubersuggest tells you which competitor websites rank where on the list of the most-searched organic keywords in your specialty. It also shows you content pages that regularly appear on the social media SERPs. Thus, it offers competitive insights, keyword suggestions, and competition research on one platform.
Siteliner
Siteliner checks your website for plagiarized content, which can be penalized by Google. It also searches for the average page speed and size, broken links, internal links on a page, and much more. Moreover, it ranks your website with other websites checked with the tool and gives you insights into your performance.
It does not matter how many websites you own, how many followers you bring in, or how much you spend on your site. If you have the best SEO tools in place, you are already far ahead of most of your competitors. However, only the best SEO company in India can integrate them into your website, so reach out to us at Savit for guidance.