There are many good reasons to start blogging. Considering that the majority of people have access to the internet on their mobile handsets, asking questions and seeking answers on the internet has become the easiest thing to do. And blogs are the best resource for any kind of solution to internet users. So let us check out the top reason why you need to consider blog posts while planning your local SEO services: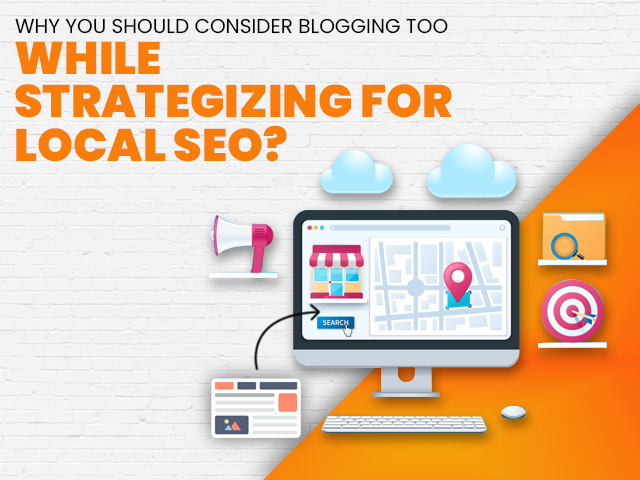 Create content that is hyperlocal
When you do blogging for local SEO services, you begin creating content that is hyperlocal – content that is specific to the exact local area. So, for example, you could write about the local events or festivals in the area that other big businesses may not think of writing in their blogs.
You could incorporate your business with the blogs to reflect how the company works during the festivals and how your customer could benefit by engaging with your business during the festive season or events. You could focus on your local industry and discuss how it is linked to people in the locality. You can also focus on issues or queries that people search for most in your local area. This will help you attract local organic traffic to your website and result in more visits to the physical store or better conversions.
Your blog content could also be interviews of satisfied customers or their success stories using your service or products. You could also write about local businesses that use your services or products and how they have immensely benefited from your services or products. Featuring other companies and customers brings credibility to your website and help you get more shares on different social media platforms, resulting in more traffic to your website.
You could write about stuff in the real–time
According to a search engine optimization company in India, Google tends to like blog posts or content on current events, festivity or activities. Therefore, the Google algorithms rank blogs or content on recent topics or recent events. Consequently, you can put your website in an advantageous position by writing on the current events or hot topics trending in your local area. This will not just boost your ranking for local searches but will also attract more organic traffic to your website. This encourages customer engagement and influences your visitors to take positive action towards the business.
While writing blog posts, you need to focus on local events or current activities happening in your area. This way you boost the chances of visibility, as people are more interested to know about the latest news or happenings in their local area. Moreover, top quality content about the current events will give authority to your website, which will improve the number of backlinks to your website and further boost the engagement and activity of your business.
More area–specific long–tail keywords help with better rankings
According to the local SEO company, you need to plan the blogs to target the long-tail keywords, specifically for local SEO. Blogs are the best way to target location-specific and industry-specific keywords. This way, you could reach people in your local area that require your services or products. Your business will reflect on their search results, which will boost organic visits to your website. The long tail location-specific keywords and their variations get you more visibility among the local searches on google search. This increases customer engagement and improves your conversion rate.
With the help of local SEO packages, you could incorporate keywords with top quality relevant content to enhance the value of your web pages significantly and ensure your website consistently ranks higher among the local results on Google search. After all, a local area business has a more significant influence on customers in the local area and results in better conversions.
Showcase customer success stories
According to a local SEO company, you could use blogging as an opportunity to showcase the success stories of your customers who've used your services or products. You can do that once in a while in your blog posts. You could even highlight the customer reviews you received for the services or products. However, there is a fragile line between showcasing and self-promotion on your blogs. Therefore, do not take things way too far that it looks like self-promotion. You may end up losing the interest of your readers. Instead, the central part of the blog post should provide information to the readers along with showcasing the products or services that you have on offer.
With the help of local SEO packages, include graphs and case studies to enhance the value of your products but do not indulge in self-promotion.
If you want to find the best search engine optimization company in India, you must visit SAVIT Interactive today.