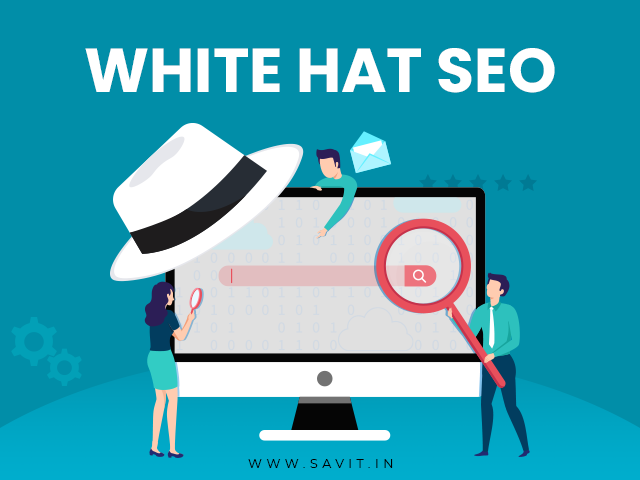 For potential customers to find your website, it is essential to increase the visibility of your website by prioritizing Search Engine Optimization (SEO). To stop your website from being penalized or banned from search results, it is essential to stick with what is known as white hat SEO practices. This is an indispensable guide for understanding white hat SEO and how it can benefit your business.
What is white hat SEO?
White hat SEO encompasses approved best practices for increasing your website's rankings in the search engine results. This term is referred to the websites that rank among the organic results rather than through sponsored links, pay and ads. Major search engines like Google, Bing, and Yahoo have established specific terms followed by white hat SEO techniques. White hat SEO and black hat SEO are contrasting terms that rely on deceptive and unethical methods. Some examples of black hat SEO are link cloaking, keyword stuffing and purchasing links. You can improve search engine visibility through black hat SEO techniques, but they typically have temporary benefits. Eventually, Google will identify these harmful practices and impose penalties on the sites that use them. To prevent your websites from getting penalised, using the white hat SEO technique is crucial to maintain your position in SERPs. If your site gets de-ranked, it can negatively affect the traffic, sales and reputation. 
Know the difference between a white hat and a black hat SEO
White hat SEO strategies are based on the usage of google approved website optimisation techniques, strategies and tactics. The major focus here is to provide users with the best search engine results. 
White hat SEO is generally,
Followed as per Google's rules, they are also pretty clear about this in their guidelines.

Search engines can be optimized for humans.

Create high-quality content that people will love to actively read and share. 

Create the best-ever website that stands out from others in your niche.
Black hat SEO is the opposite of the white hat SEO technique.  
A black hat SEO uses tactics, strategies, and techniques that often do not follow Google's guidelines. They are sometimes entirely unethical but can give you the desired results. Black hat SEO usually concentrates on exploiting and finding algorithmic loopholes. Except for your competitors, these loopholes don't hurt anyone.    
A black hat SEO technique will generally,

Often break google guidelines.

Focuses more on search engines and less on users

Attempts to deceive users with things like doorway pages and cloaking

Hacks into people's websites
White hat SEO strategies are the way to build a long-term brand. It is advised to not put your entire business on the line by using black hat SEO, and it's not worth that much risk. Black hat SEO is also much more expensive than ever before, and black hat SEO has a bit of complication, and you need good technical knowledge to understand what went wrong. So, white hat SEO is a more reliable option, and it works by bringing in organic traffic. 
With that said, here are some easy and simple white hat SEO techniques that are more viable alternatives than black hat SEO.
Creating an appealing website vs several unappealing ones
Dozens of websites are launched in black hats for quick succession to see which take off and which ones flop. They do not prioritize UI/UX as most visitors won't even return to their websites. It also takes ample time and effort to know how to do this at scale. Undoubtedly, people prefer beautiful-looking websites with a seamless user experience with quality information. 
Creating high-quality and valuable content vs low-quality and stolen ones
It is unethical to steal content from other websites and publish it yourself. It is also not applicable as Google resists duplicate content and is not very useful for the users as well. The content you find on black hat SEO websites is of low quality, and the writers hired for such websites cannot write content without grammatical errors, which makes this a questionable tactic by black hat SEO. 
Link building vs Link buying
It is super important to have links to rank for topics with accurate search results. You must rarely see any top-ranking page with worthwhile keywords having zero backlinks. The quality of search results will dilute if you buy or sell links that pass Pagerank. Also, participating in or using link schemes that violate the guidelines of Google's Webmaster can negatively impact your search result's site ranking.    
Link-worthy content vs Forcing people to link to you by hacking their website
Someone can maliciously insert a code into your site, popularly known as 'Link Injection'. This makes it seem like your website is leading to numerous bad and extreme websites for the users. The shadiest thing is that these websites are inserted into the site without the site owners knowing. Above all, it is illegal to insert JS script links to disreputable sites that can get you arrested to break the Computer Misuse Act 1990. Thus, focus on crafting valuable content that people will want to link to. 
Outreach vs Spam
You won't believe it, but most of the outreach you see is spam. Google does not like spam, and neither do users. That's why it is said to avoid spamming link requests out to various sites related to your topic area in the SEO's starter guide. Google knows that you want to promote your website. Thus, Google wants you to create valuable content for those interested in the subject. So, it is advisable not to spam everyone. 
Ace white hat SEO strategies with the best in the industry
Using the white hat SEO technique can seem complicated, but it is crucial to use it in your SEO strategy. Thus, hiring an SEO agency to help you with white hat SEO strategies, tactics and techniques are essential to make your website stand out. Savit Interactive is a leading SEO company which has helped brands scale higher with excellent white hat SEO techniques. Besides white hat SEO, Savit offers services like Search Engine Marketing (SEM), Website Design, Search Engine Optimization (SEO), Pay Per Click (PPC), Conversion Rate Optimization (CRO), Online Reputation Management (ORM), and E-commerce Websites for various firms and Industries. Savit Interactive will assist you in making your website rank on the first page of the search results by helping you expand your business like never before!