Gaining visibility is a tad tricky for small business owners. First, there's unavoidable competition among businesses. Second, one has to step up the game to obtain potential customers. 
Local SEO is the key for small business owners to achieve the visibility of SERPs. It involves branding, marketing, and offering services to local customers and leads. 
To attract customers, you need local SEO services that will turn your business into ever-demanding.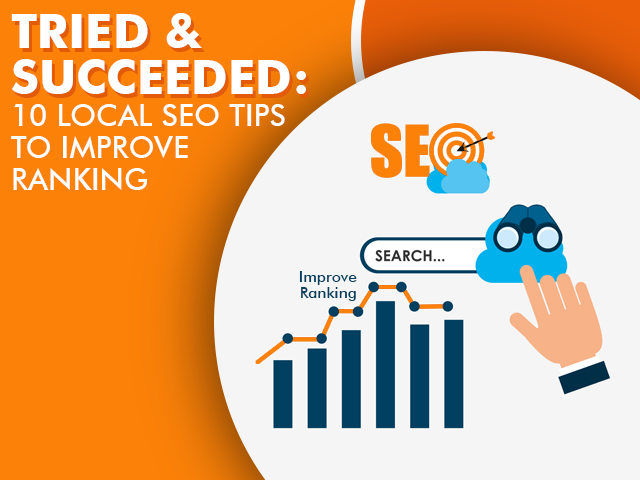 In this blog, we will share tried and tested 10 local SEO tips that will help you improve your online presence for targeted audiences. 
#Tip1 – Google My Business 
Optimizing Google My Business is a game-changer. Google wants to encourage small businesses to use its platform. If you have not claimed it yet, you can sign up for free on Google My Business and follow the rest. 
Add information about your business by targeting keywords alongside adding product photos, business logos, and events to keep your customers updated about your business. 
#Tip2 – Customer Reviews 
Having strong customer relationships is the foundation of any business. Reviews play a quintessential role for any business. Asking customers about the feedback will give you a perspective about your work and service to the customers. 
Having a positive, negative, or neutral review certainly affects your business. Always reply to the reviews because, in certain scenarios, a negative review can turn the situation in balance. It reflects how much you are keen on helping out the customers and offering satisfaction. 
#Tip3 Social Media 
Social media is booming with excellence and content like never before. It's time to raise the bar and improve your visibility on social media. Customers tend to look out for social media websites. 
Set up the business profile on the social media websites like Facebook, Instagram, Twitter, and LinkedIn. Add the relevant information related to your business and source of contact.
#Tip4 Voice Search 
There is an increasing trend of voice search on Google Assistant, Siri, or Alexa. Voice recognition plays a significant role in local SEO. Businesses are optimizing their voice search strategies for recognition in Google. While using voice search, customers often use long-tail keywords. Hence one has to ensure that the content tone is conversational. 
#Tip5 Local Directories 
Customers rely on Google to gather information related to the business. Website submissions in the local directories is a practical way of improving your local SEO. There are multiple categories and types of websites available. It is essential to select the category that meets your business to create the account. Make sure that the local directories website have high domain authority and page authority too. 
#Tip6 Mobile Friendly 
8 in 10 people use mobile phones or tablets to access websites which brings a chunk of traffic. It means that your website should load quickly and be easy to navigate. 
To improve the page load speed and make your website more responsive, we suggest you compress the images, eliminate the redirect pages, reduce the server response time, and more. 
If, after trying all the options for optimization, it does not work, then we suggest you hire local seo services that will clear your doubts. 
#Tip7 Local Content 
Putting efforts into the local content will certainly improve your ranking. However, it needs time and consistency. By building locally-focused content targeting the local audience, it brings relevancy and connection. 
From writing the guides, local events, interviews to FAQs – there are plenty of ways you can add content to your website. Google Trends is a useful tool to gain insights on trending topics. 
#Tip8 Local Keywords 
Keyword research is a crucial part of any SEO related activity. Finding the right set of keywords together with engaging content is a winning combination. Use the locally relevant keywords so that users are tempted to click in and find more about your business. Besides content, compile the meta descriptions and add the targeted local keywords. Do not duplicate the page's content, titles, or meta descriptions. Let it be unique or something better. 
#Tip9 SEO Audit 
Doing a local SEO audit from a reputed local SEO services India is necessary to get a perspective of what's working in your favour and what isn't. With the local SEO audit, you will know about the competitor's analysis, backlinks, and on-page optimization. After conducting the SEO audit, you can strategize accordingly to get the best results. In addition, the SEO audit will give an insight into what customers are looking for in the local market. 
#Tip10 Building Links 
Building quality links from reliable websites having high domain and page authority. Link building is an effective way to boost the ranking locally. You can outreach to the websites, publishing houses, or any source that will give you a backlink relevant to your business. Depending upon your industry, you can even collaborate with an influencer or digital creator. It will cover a range of targeted audiences and make your brand more approachable.
Local SEO can give an edge to your business. It can improve ranking, conversions and bring organic traffic. However, it is a constant battle among businesses. One has to put the best foot forward with the best local SEO company to deploy techniques and show results. If you are looking out for something similar, then let's talk. We would love to hear about you and your business.
Local SEO Services India  Why You Should Consider Blogging Too While Strategizing For Local SEO