Local SEO services is a broad concept that includes multiple solutions to enhance or increase the visibility of your business online. These services include creating business listings that appear on top of local search results on Google, creating social media campaigns focused on the local target audience, managing online reviews and ratings, and so forth. 
In this blog, we discuss the top 10 tips that improve your website and your online presence.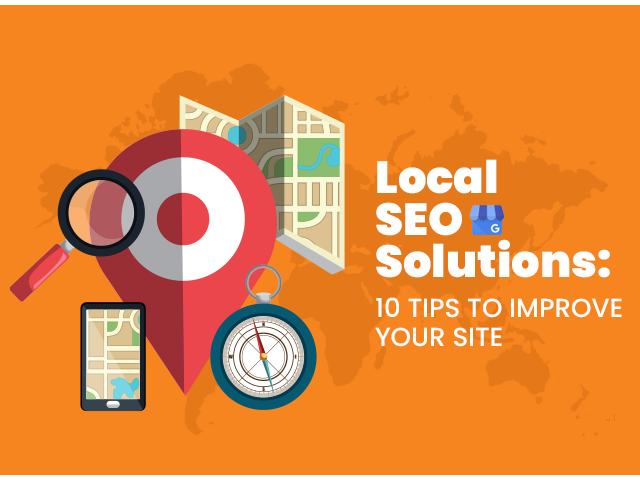 Create and Optimise Google My Business Account
Google My Business increases the online visibility of your business immediately by showing it on various listings, where otherwise your business website could not pop up. Just follow the instruction to create your business account on Google and make sure you do not miss out on the key steps mentioned below:
When you provide your business description, incorporate the main keywords and the area or the allocation of your operations.

Select the best or the most appropriate category or subcategory for your GMB listing. Then, find out about the most popular search results or queries that perfectly apply to the kind of business you do.

Verify the profile you created to ensure that the name, residential address, and contact details mentioned in the GMB match with those on the website as well as in the local citations.
Local SEO services by SAVIT can provide you with optimum support by simultaneously distributing your business account to all the local listing websites.
Optimise the Content with Local Keywords
Start by doing detailed research on the local keywords. Local SEO packages by SAVIT include an interactive tool that allows you to conduct local keyword research. This tool provides all the necessary insights that you may need during keyword search, such as more relevant keywords for your business, its estimated value, as well as the existing competition for the rankings. 
However, you may need to include some more steps when targeting the keywords. After all, local SEO packages are all about narrowing down the search for effective targeting:
Search for local keywords and select keywords relevant locally for effective targeting. Then, integrate them into the website metadata, in relevant pages of the text body, as well as in the URL.

Optimise the content to become more relevant to the local area. Specify area-specific hotspots and landmarks. Pay attention to the "About Us" section and make it more location-specific. Focus on information that is relevant locally.

Create backlinks for the most locally relevant web pages. 

Identify the Keywords and Track Website Position on SERP
After identifying the locally relevant keywords, you would need to track their performance on SERP. It can be done in various ways. 
SAVIT can make this more accessible with the help of practical tracking tools that allow you to compare and track multiple devices or geographic locations on a single project. In addition, local SEO tracking can be easily handled, and you can even view the performance of your competitors. 
The tracking tool by SAVIT allows you to track specific keywords inside the target radius of the business. 
Community Engagement or Local Link Building
With the help of SAVIT, you could take the best advantage of the familiarity and geographical proximity of your business location with effective community engagement and local link building.
You can now make connections and reach out to other prominent businesses in your location and ask them to directly link to your business website. It is the best and the fastest way to get top quality backlinks. In addition, this helps send the most potent signals back to Google, which enhances the ranking of the page on local search results. 
Submit your Website to Business Directories Online
Once you have gathered the required information for the GMB page, the next important thing to do is to provide the information to various business directories online such as TripAdvisor, HubSpot, Yelp etc. 
You can check out the local business directory list available with SAVIT – the top local SEO company, and find out more about online directories and submission to avoid any Google penalties due to the presence of unnatural inbound links on your website.
Build a Presence on Social Media
Social media opens up several opportunities for businesses. Therefore, it is imperative to build an effective social media presence for your business. With the most prominent users, Facebook allows you to reach out to the broadest audience. Moreover, you can even target your audience as per the geography.
You can post videos and images with extra flair on Twitter along with the limited 280 characters. But, of course, their retweet function is the most powerful feature, which can easily create a buzz around the ongoing campaign. Likewise, on image-centric platforms such as Instagram, you could build your brand image and boost customer engagement.
Interact with Customers Online
For a small business, it is not easy to manage it is brand messaging across multiple platforms. Therefore, after creating your business profile on various social media platforms, you need to keep them updated regularly. 
The schedule of your posts on social media has to encourage your target audience to interact with the business. Therefore, ask for feedback and questions from your followers, host giveaways and contests. Remember that your communication on social media has to be consistent across all platforms. 
SAVIT- leading local SEO company,  can help you run the best social media campaigns across multiple platforms. 
Actively Manage Ratings and Reviews
Online reviews are compelling; they are almost like a personal recommendation made by a customer towards the business. Therefore, you need to provide a medium for customers where they can share their experience of using your products or services. 
It is also vital to monitor the responses and respond to the reviews, mainly if you are operating in the local area. All these reviews and their effective management has a direct impact on your brand value and brand image. 
Therefore, encourage satisfied customers to provide a review and manage negative reviews and provide prompt solutions to grow your online presence.
Implement Geofencing Advertising
Geofencing is an ultra-efficient and hyper-local technique for online advertising which draws a kind of virtual perimeter or boundary around the business to showcase your ads on mobile devices that leave or enter that area. 
This advanced technique for marketing is very effective only when you optimise the existing content with specific terms that are relevant locally. This gives you the best return on your investment, considering that these ads would be displayed on the mobile devices of specific target audiences that have higher chances of clicking on the ads because they are closer to your business location. 
Businesses can apply local SEO services in India and optimise the content to achieve better rankings within the local area. This can be done by adapting the SEO services as per the main words used in the natural language spoken in the location. 
With these top 10 tips, you can improve the presence of your website on Google search. In addition, SAVIT offers the best local SEO packages that provide the best return on your investment. 
If you want top-quality local SEO services in India, you must visit us today.