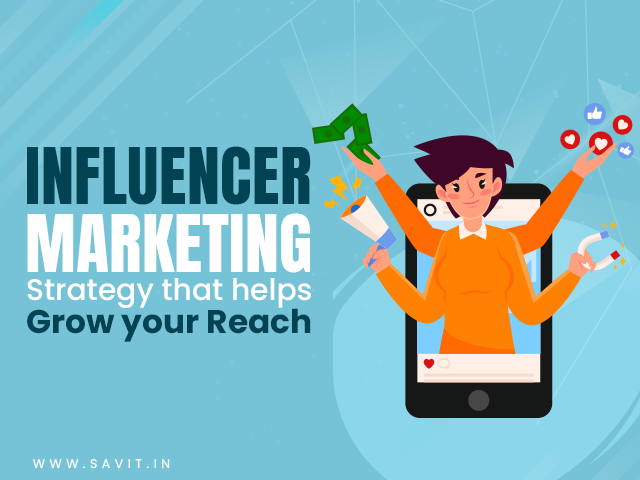 Influencer marketing is one of the most impactful ways to expand your brand's reach, boost your credibility in your industry and establish yourself as a famous brand within your field of expertise. This guide will teach you six strategies for using influencer marketing in your industry. Find other influencers and use your influencing skills to get people's attention towards your brand and the content you will post on different digital platforms. Before we get into this, let's quickly discuss influencer marketing. 
What Is Influencer Marketing?
You can leverage the status of an individual within your organization to boost the engagement in your profile and build an impactful brand image by leveraging influencer marketing. Today, influencers use their status and reach to launch consulting businesses or companies. Many of the world's leading influencers' names are synonyms for a particular brand and are also known as ''Brand Ambassadors''. Another thing to be noted is that influencer marketing strategy isn't merely used to capitalize on someone's image to increase sales. Influencer marketing is leveraged to establish an individual as a trusted entity in their area of expertise and define the conversations that center around a particular topic for content marketing, paid search, and social media. Understand how you can create marketing campaigns that create a more significant impact and effect in your niche. Here are six influencer marketing strategies that increase your visibility in your niche and make people want to know more about your brand.
1. Find Influencers In Your Industry
You already know the shakers and movers in your field, and you need to find and follow certain influential people to know what they are promoting and need to understand the current trends. 
How To Find Influencers
Social media is the easiest way to find influencers and search by the topic to identify the conversations and see who is making their voice heard. Research which type of people these influential people follow and participate in regular discussions relevant to your niche, like a weekly chat on Twitter.
Alternatively, you can leverage free online tools like Topsy and BuzzSumo to see who shares your content and how influential they are. In Topsy, just simply enter the URL of the content and check out the results.
2. Organize the conversation
Before becoming an influencer, it is essential to realize that it is vital to advocate for a cause or subject area that is not the same as being influential. You can be the world's most significant influential person due to the use of content marketing. But, this doesn't necessarily mean that you are a content marketing influencer in order to be perceived as an authentic influencer in a given area. You need to shape the conversation and not just keep advocating it for whatever it is being discussed. Ensure your ideas and opinions challenge existing conventions about your niche and drive as much engagement as possible. In order to stand out, it is crucial to define a conversation and not just observe everything. 
3. Capture Your Niche
If you are going to become a well-known brand in your industry, you need to own your niche. It is not enough to know about a few subjects; you need to focus on one topic and specialize in it. Create an effective platform with the most viewership so you can share your knowledge through the content. By doing this, you can amplify your content reach so that more people will be able to engage with your content. If your content is as good as it is advertised, you can expect more people to create engagement with you. To influence other people online, you must create a campaign using different tactics to achieve it.   
4. Goal: to influence the decision-makers
To become an impactful brand with influencer marketing, you must reach as many people as possible. But, it takes just more than creating content. Influencer marketing strategy is more than just reaching many people; it is more about reaching the right people. After all, you will need at least the implicit endorsement of other experts in your field if any of your ideas are to gain traction. This does not mean carpet-bombing the entirety of Twitter with links to your latest fantastic blog post. Ensure that the right people see your content and amplify it. Also, start sharing other influencers' content. 
5. Build a Cheerful Community
So, we have concluded that sharing other influencers' content while creating your original content is essential to influencer marketing. Still, one mistake that many people make, even renowned experts are failing to appreciate the importance of the community in their industry.
6. Being sincere, reachable, and responsive
Social media is transforming the way people interact online as people misguidedly expect to be able to access the people they respect and follow directly. If you project an image of accessibility can go a long way towards improving your stand and increasing your visibility in your field. Social media is considered to be an immensely powerful tool in influencer marketing. But, one should not forget the ''social'' part of social media. Try interacting with your followers and become an active part of the community. This type of transparency and honesty makes it very easy for people to connect with you on another level which is beyond professional, and this shows a more relatable side of a brand. 
Conclusion
Today, influencer marketing is a powerful tool to stand out in a highly competitive marketing world. Unfortunately, there is no one influencer marketing strategy that fits all approaches to influencer marketing. To cater to this problem, Savit Interactive helps several brands to leverage the best influencer marketing strategy to increase engagement and generate leads. We use multiple tactics to increase the chances of your content being found by a larger audience. Hurry up and join us to grow your business into a brand by using the best influencer marketing strategy.