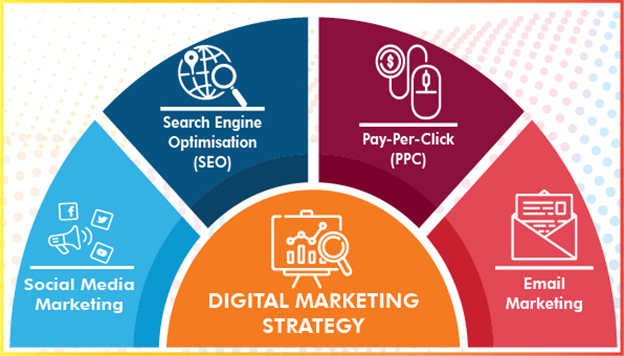 With digital marketing, the major area of concern is identifying the policies that work. In most cases, you will be able to develop an efficient strategy only after a few trial and error methods. But if you do not have the time for the trials, then here are the digital marketing strategies that work and should be a part of your marketing campaign: –
Social Media Marketing (SMM) :
Social media marketing is one of the most popular and effective forms of marketing strategies. It is not difficult to understand, and more than 2.8 billion active users are accessing their social media accounts every day. Therefore, having a social media marketing strategy in place is guaranteed to boost your customer engagement through brand awareness. You can enlist the help of an experienced digital marketing company to leverage the benefits of social media marketing for your business. Which social media platforms are suitable for your company depends on several factors such as target audience, target age group, nature of product or services, the end goal, etc. Facebook, LinkedIn, Instagram, Twitter, Pinterest are some of the most famous social media platforms that you must use.
Search Engine Optimisation (SEO) :
Search Engine Optimisation or SEO is a term used to describe a range of activities that aim to improve your ranking on the SERP (Search engine results page). SEO helps improve the ranking of your website and make it appear on the first page for Google and other search engines. That will increase the organic traffic coming to your website and offers you an excellent return on your investment. As SEO is a complex process, you must enlist the help of an agency offering internet marketing services to handle it for you.
SEO will give your company more visibility and ultimately bring you more revenue. If you rank at the top of search results, consumers will more likely lend their company. Search engines will also begin to trust your website and accord consistently higher ranking.
Pay-Per-Click (PPC) :
PPC is one of the more expensive forms of digital marketing strategies but offers instant returns in the form of increased traffic to your website. Herein, you place a proposal with other competitors on whose ad it displays when the searcher looks for a particular phrase or term. The algorithm of the search engine automatically compares the bids and shows the links for the winner on top of the search engine result page. every time a user clicks on the link, the bid amount will deduct from your account balance. As the name of your website appears on the top instantly, you have better chances of having customers tour your website.
You can get started with PPC in less than 24 hours and get targeted traffic, whereas SEO can take between four to six months for competitive keywords to start getting targeted traffic. With tools like Google Analytics, you can monitor your campaigns in a better way.
Email Marketing:
Email marketing is a marketing strategy that offers excellent results despite people doubting its capabilities. The cost of email marketing is much lower since there are no charges levied by email providers for email marketing. Email marketing forms one of the cornerstones of every digital marketing franchise's marketing strategy.
Email marketing is a form of marketing strategy that works if you are regular and persistent. But make sure that you send an email to a limited number of target customers at a time to avoid spamming.
There is excellent synergy between all these types of marketing strategies mentioned above. You have to determine which one is right for you and your company. As digital marketing has democratized the internet into a level playing field for all businesses, nothing can stop you now.