What is social media optimization?
SMO or Social Media Optimization encourages organizations to audit, analyze and create adjustments to their social media accounts and content so that it is strategically aligned with social media's best practices.
Like SEO, even SMO services require regular testing and tweaking for the best results for the company. The advantages of social media optimization include the following:
Improves visibility and outreach of the content, creating greater engagement in terms of traffic, clicks, and many more

Evaluate the overall outcomes and ROI of the social marketing initiatives of the company

Helps focus more on brand awareness and sales

Creates a consistent and thorough process of creating content that is poised for better performance related to the brand of your company.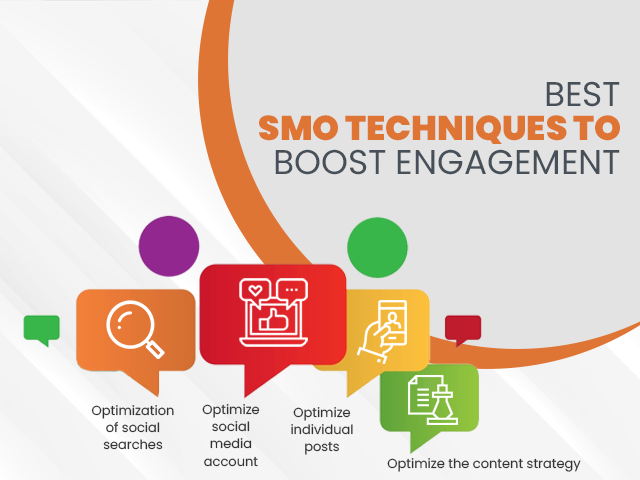 Here are the top optimization techniques by the top SMO company India that can boost your social media engagement.
Optimize social media account
First, ensure that all the social media accounts of the brand align with the business objectives. For this, you need to do an audit of the social media profile pages with a special emphasis on marketing and branding. The following are the things to consider for social media account optimization:
Branding & creative visuals, such as fonts, logos, hashtags, slogans and taglines need to be consistent across all forms of the online presence of the business.

Must have call to action buttons and/or appropriate links that send the right message/signal to the visitors reaching the landing page.

The marketing language and messaging should match the current promotions of the company.
Account optimization ensures that you do not feel lost among the constantly upgrading social media platforms and are up-to-date with the latest plans and promotions.
Optimization of social searches
As a brand, you will need to find out ways to optimize your social media platforms to reflect on search engines. This will give a boost to your visibility on social media. Nowadays, when you search for something on Google, you are extremely likely to find their social media profile also popping up on the search results along with the business website. Therefore, it is imperative to optimize your social media account for a better presence on local search results.
With the help of an SMO company in Mumbai, you can optimize your social media profile for better visibility on search results in your local area. The best way to optimize your social media accounts is by doing the following:
Include relevant keywords as well as hashtags in the social media bio of the company.

Ensure that the main details of the business such as an address, username and contact details remain consistent across all the accounts.

Fill the bio completely and add details to the 'About' section on social media networks for better visibility.
Optimize the content strategy
You need to add the right type of high-quality content on your social media platforms to improve visitors to your social media profiles. It is, therefore, pertinent for every business to have an organized content strategy to effectively manage their social media accounts. With the help of an SMO company in Mumbai, you can optimize your brand's content strategy to meet the standards of your target audience. This helps you to build better engagement with your prospective customers and boost organic visits to your business. A content optimization strategy includes:
Establishing a proper and consistent content publishing volume and frequency, including when to, how often to and how much to post every week.

Determine the kind of assets required to fill the schedule, including images, texts, videos and others.

Identify the posts that could be published/posted across multiple networks and know which ones are standalone ones for single platforms.
Optimize individual posts
While you plan your business' content strategy, you must not ignore the individual posts that put a spotlight on your social media profile. Optimizing individual posts gives a further boost to your social media optimization efforts.
With SMO services from Savit Interactive, optimize individual posts by doing the following:
Write captions and copies that reflect the current promotions of the business and its initiatives.

Add proper hashtags and CTA buttons as well as keywords for every post.

Create a distinct brand voice and tone throughout the social media campaigns, and find a balance in personality and promotion.
Implement these SMO techniques to greatly boost customer engagement. If you have limited expertise, you can opt for comprehensive SMO services from Savit Interactive — the leading SMO company India. Visit us today to know more.