Getting a high ranking in local SEO seems to be a simple task. Enter your company information into the Google My Business, make a few directory links, and you're good to go. 
However, local directory links are no longer used to you. You must revise your approach to the SEO services and strategies you implement.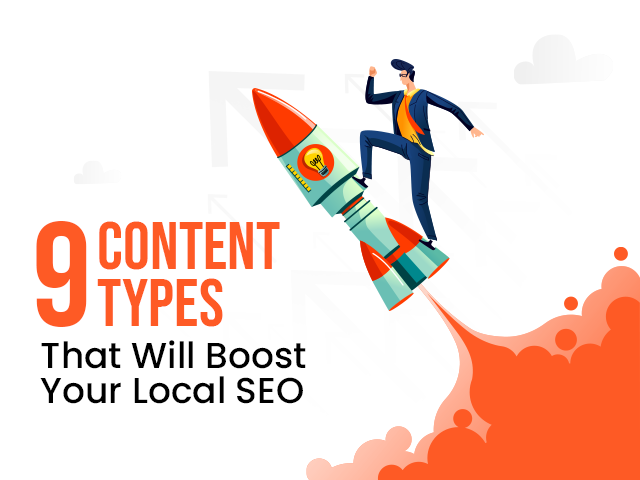 So, What to do now?
There must be information to support your local search engine optimization ranking. Your localized keyword should focus on your content, so don't worry about that.
By using content to enhance their Local SEO ranking, 8 out of 10 businesses saw an increase of 300 %.
Content may help you rank higher in local SEO if you know how to utilize it.
To assist you in increasing your local SEO rankings, we will share some fascinating content tactics in this post. Keep scrolling to know more! 
The more content you add, the better the outcome you'll get. You can't expect people to come to your event unless you invite them, right?
Content creation for local SEO is thus essential. 
The key to having a product or service that does well in a local market is having content tailored to that market's needs.
A local landing page is the first step.
Imagine that you want to rank for a local SEO term, but you don't have a website for your location? If you're going to rank well for those essential phrases, you'll need to put in the time and effort. Your local SEO rating, on the other hand, is a piece of cake when you use a location website.
A unique website for each location is required if your business has many locations. Building a separate website for each area might be intimidating. You can keep it accessible by creating one page for each location instead.
Local SEO isn't complete without quality content. From the third page to the first page, or from the second page to the third page, the content may make or break your tactics. 
State Or Regional Landing Page
The process of developing many location-specific websites may be complex. There is no better place to begin than in your neighbourhood, city, or region.
Alternatively, you might establish a country-specific website with a city-specific page. This may assist you to improve your local SEO.
FAQ (Frequently Asked Questions)
With voice search altering the way people seek information, the industry is experiencing a change in the way consumers consume information.
A third of smartphone searches are based on where the user is now. BrightLocal reported that 58% of customers utilized voice search for local business information last year.
For example, type "is there an age restriction for signing up on Facebook?" into Google.
Surprisingly that the answer was filtered from FAQ and presented in the excerpt is what you'll find.
Special Discounts & Coupons 
Today, everyone is excited about deals and discounts. Promo codes and coupons are the most excellent strategy to boost local companies' rankings on search engines.
Make an effort to understand your target market's wants and requirements so you may tailor your offerings to meet their demands.
For a location-specific discount, you target the local audience. It's been a heated competition when it comes to local search engine results. Not too little is being discounted. Here's where the role of local SEO company India comes to rescue you and navigate your way in top local rankings. 
Discounts and promotions are an excellent approach to boost a small business's online visibility.
Even so, people are searching for upcoming events on Facebook. Many individuals check yoga sessions, conferences, workshops, and product launches. 
Organizing these types of events might help you raise awareness of your company, but as we previously said, what's the point of anticipating guests without inviting them?
In the absence of an announcement on your website, you'll miss out on some of the finest opportunities to improve your local SEO rankings.
Get Involved in Local Events
If organizing the event isn't your cup of tea, consider partnering with or sponsoring local events that may assist raise knowledge of your business. This may be an old trick, but it works wonders to expand your company's awareness.
Suppose you can't afford to sponsor an event. In that case, you may speak about the local events that can significantly influence your local SEO.
Blogs are the best way to improve your local SEO. A blog is an excellent asset if you attempt to compete with the local organic search results.
The following are a few ways to start a blog:
Advertising new place

Introducing new goods and services

How to find products and services

Testimonials
Creating a list of the "best of" items is like quoting rapper T.I., "You can have everything you want."
If you're creating a "best of" list, your goal should be to provide your readers with as much information as possible on the subject matter.
If you haven't already, you should put some effort into developing an effective press page for your local SEO. Working with the correct media outlet may improve local rankings dramatically. 
Your press page might assist you to improve your Local SEO Google, and other search engines have considered these local concerns. Your company and revenue will grow if you create hyperlocal content.
Optimizing the website for the local SEO and achieving ranking is tricky. However, you can undoubtedly improve the ranking by following the above content ideas. At Savit Interactive – an SEO company in Mumbai, we believe that delivering quality content will take your business on another level, followed by SEO tactics. We would love to know your thoughts on the same, let's talk! Get in touch with us today!