A well-designed website is your ticket to impress your audience and clients. It's the place where your customers can learn more about you. It can assist the customers in deciding whether to lend a hand for business or leave. 
Designing and optimizing the website will assist you in gaining potential customers for your business. The right web designing strategies increase customer loyalty and humanize the brand in an approachable way. Here's where Savit Interactive who offers the best website design services in India come to your rescue.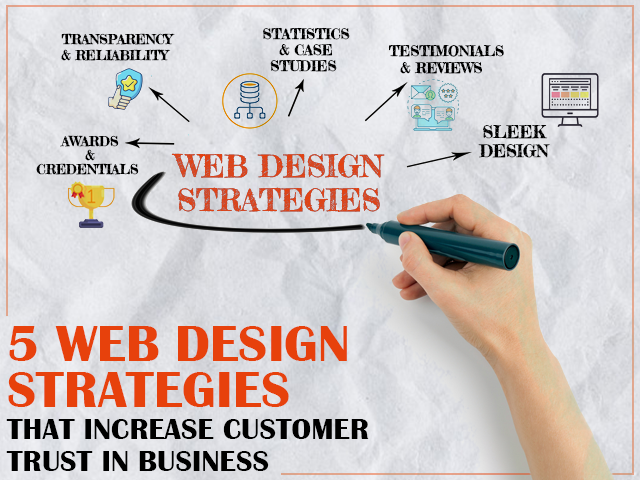 Below mentioned are the five web designing strategies to earn customer trust. 
Sleek Design
Having a poor design, content, and bad navigation will make your visitors run away. Hence having a sense of appealing website design plays an essential role for the business, and it boosts the chances of conversion. 
10 in 12 users prefer using mobile for browsing, and therefore having a sleek interface and navigation in the mobile is crucial.
 It should be easy for the users to browse throughout the website regarding font, graphics and visuals combination, and more. 
Having relatable content that engages and targets the audience will help you gain your audience's goodwill. Hiring a responsive website design company will warrant a sleek design and smooth experience. 
Testimonials & Reviews
Having testimonials and reviews on the website will give a perspective to the customers. It brings in reliability and credibility. The user wants to know what the customers want to say about the product or services. 
Whether the reviews are positive, negative or neutral, you should always reply and be at your customers' service. Many times, a negative experience can turn into a positive one, thereby offering customer satisfaction. 
Statistics & Case Studies
Your audience is interested in knowing why, what, and how you do it. Providing concrete examples and the results can mete out expertise and skills. It is a brilliant way of showing what all goes behind and the positive results produced for customers. 
Presenting the real numbers and data is a way of promoting your brand, and it reflects your dedication and commitment to the audience in providing the outcome. 
Transparency & Reliability
The foundation of any successful business lies in transparency and reliability. Hence, it is essential to build faith and demonstrate it to your customers. Being true to your ethics and motives will encourage the customers to support and engage in your business. 
The "About Us" page is where you can put forward the thoughts, what your company believes in, what it has in store and the values that the company stands by. 
If you can offer valuable resources and answers to their questions, visitors will trust the brand more. 
Awards & Credentials
Another way of gaining the audience's trust is by posting the awards and credentials on your website. Showing your successful work out there is a simple way of entering the industry. 
The certifications and awards will show the denoted experts of your business. Besides, investing in the employees for their updated knowledge is a bonus. 
Your audience will always connect well with your brand if it is well-designed and conveys the message right away. It's essential to find that voice to build trust. The blog, as mentioned above, sums up five web design strategies that will increase customer trust in the business. Share your work with the audience, and trust will follow. At Savit Interactive, we as a web design company in Mumbai offer a wide range of services and believe in a loyal customer base. If you are interested to know more about it, let's have a chat, we would be happy to guide you.