In the current digitalized world, a website has become a necessity for a business enterprise to carry out customer-friendly transactions and enhance business opportunities. However, having a website where no one visits is of no use. So, increasing the visibility of a website in a search engine like Google can help you reach a bigger audience. But doing so is a great challenge and is not so easy in a competitive environment.
Let us look into 15 must-know tactics that can be used to rank your new website in search engines like Google, to create more viewership, and grow your business.
Do this to make your website easily accessible: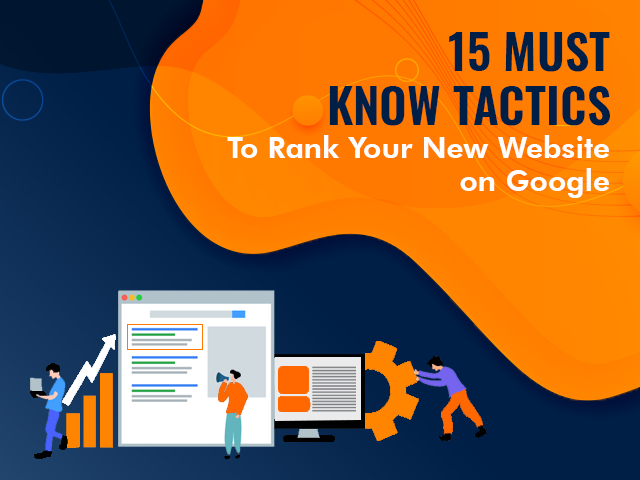 1. Include specific keywords in the webpages
Google's algorithm works to show the most relevant pages for a particular search. Ensure every web page on your website addresses one specific topic. Perform detailed research on keywords commonly used for such specified inquiries and incorporate those keywords in your web pages. SEO can help you include keywords to boost your visibility. You can also find digital marketing agencies online that provide SEO services to help optimise your keywords. Remember, the more clear-cut the topic is, the higher the chances of getting customers to see your page with a quick search.
2. Let Google access your web page with ease
Google ensures it is constantly updated by adding up newly created websites to its storage. Simplify the work done by Google and make sure your website is easily accessible to learn keywords to add up and recover it quickly from its storage when searched for. This can be done by:
Inserting keywords affiliated to you.

ur related content in the webpage, web address, website features, and image links of your web pages.

Connecting your web pages internally so that the website can be accessed with ease at large.

Ensure your website is free from indexation holes by conducting an SEO audit.
3. Create blogs
Creating blogs is one of the key ways to get noticed in search engines, as every blog post increases the chances of getting recognized. However, do not create blogs for the sake of it, but provide valuable information and improve the quality of the content. In this way, you can get readers to check your website, especially those who look for helpful information. Click here to know importance of blog in seo.
4. Enroll your website in business listing sites
Ensure you are getting noticed on Google by providing your business profile to online channels. This can be done using free online business directories available in India. Below are the free online manuals that can be used to get your business listed:
Facebook

LinkedIn

Instagram

Indiabizlist

Indiamart

TradeIndia

Yellow Pages India

Yelu.in

Submitmybusiness
The likelihood of getting noticed is high when you list your business at more places. Further, you can also onboard digital marketing companies in India to promote your business websites.
5. Use convincing web page titles
To get noticed, give more clear titles to the webpage that will let you stand out among other web pages. Using keywords can help you get found on Google. However, you need more than that to grasp the attention of the user and make them check out your page. So, using compelling titles without over-committing yourself can help you get more organic traffic.
For example, if you are a jute product seller and you have a blog post highlighting the benefits of organic products, consider these titles:
Not convincing: "Benefits of jute products."
Too extreme: "Why you should replace all your plastic bags with jute bags."
Convincing: "6 reasons why jute products are eco-friendly and fashionable."
Always make sure you are not desperate with your titles.
6. Get Google verification for your websites
Google finds your web pages based on the ease they read and classify. Let Google access your website even more effectively, enrol your business profile in Google Maps using Google My Business. It does not require much effort and time to register. Below are the steps you can follow to register:
Sign up on Google My Business.

Locate your business using Google Maps.

Claim rights of your business and optimise the listing.
Later, enter the security code in Google My Business from your mail to complete your verification process. Once you are verified, you can optimise your business listing. Always ensure it is updated and complete to look authentic and get more clicks on Google.
7. Collaborate with well–known websites and blogs in Google
Watch out for influencers and bloggers who have a significant influence among the audiences in your target industry, and try to collaborate to make your presence known. Send a personal invite to an influencer to write a guest blog for you and let them share it with their audience. This way, your brand or blog page will get recognized by a barrage of new audiences. You can also ask them to give you a shout-out in their social media post tagged with your website link. Always ensure you are grateful and maintain a cooperative relationship.
8. Up your ranking game and be noticed
Even though getting the right keywords and making sure they are well placed is essential to get noticed by Google, the secret to getting seen by more people in the online community is higher page ranking in Google. Higher ranking can be achieved only by providing quality blog posts. Google can keep a record of how long people stay on your blog post and page and how much you captivate the interest of the reader.
Here is how you can write an intriguing online journal that can get more attention:
Do good research and dig deep into the targeted topic to provide answers to the most FAQs associated with the keyword.

Make it more engaging by attaching figures, videos, and other visuals to increase their hang-around time.

Provide a memorable experience, and do not just leave them with straightforward answers or information.

Ensure your website can be loaded and optimised for mobile view for a portable, user-friendly experience.
Remember, at the end of the day, readers are ultimately looking for quality content and quickly scroll down if they do not find what they are looking for.
9. Use appropriate images
Google images are used by people very often, which is a common but not the best practice. Instead, include pictures of your products and services on your web pages to rank higher in a Google image search. You can get your photos noticed very often by following these steps:
Give proper file names.

Reduce buffering time by using a small size photo.

Provide relevant captions.

Make sure XML sitemaps contain your images.
10. Advertise your website through Google Ads
Google ads involve monetary expenditure to promote your website at higher ranks. Though it can cost you money, it can surely add to your online visibility. For instance, when you do a simple Google search on "Massage spas in Mumbai", you can find quite a few ads promoted and ranked on top search results.
11. Post it on social media
An effortless way to promote your website is to be active in your business's social media accounts. Let people know your presence by being actively involved in social media. Be creative and humorous to stand out with your posts. On social media, do the following:
Reply to your follower queries.

Get into Facebook and LinkedIn groups.

Use trending hashtags.

Stay relevant.
12. Use local media services
Not every time you have to use online tools for promotions. You can also try conventional promotions by reaching out to your local newspapers, radio stations, magazines, and even television channels with a creative story about the ongoing events in your organisation that can help you gain newcomers to your site. Giving out pamphlets can also help you cover multiple segments of people.
13. Use compelling social media posts
Imagine your social media post going viral among netizens for all the good reasons? Sounds good, doesn't it? You need to be updated with the trends in social media to stay relevant among the millennials and Gen Z to promote your website. Use appealing images, simple quirky captions and grab the attention of the reader. In this way, you can make even your follower's followers check out your website. If you are writing about any of the brands you like in your blog, notify them personally. It can help you maintain a good relationship, and they may try to reciprocate the same, leading to a fission effect, helping you get a wider audience.
14. Impress your customer with outstanding services
Online business listings sort user search results based on the number of good reviews. This applies to Google too. A good customer experience can help you get good feedback or reviews from your customers. To get positive feedback or thoughts, do the following:
Deliver excellent services to your clients consistently. Treat every customer with the utmost respect, be honest and earn their loyalty to be ahead of your competitor. Resolve any customer complaints as soon as possible. Keep in mind; a happy customer can surely get you more customers through positive word of mouth.
Request your customers to give their feedback and a 5-star rating. You will not lose any self-respect if you ask them to provide you with a positive rating. In most scenarios, customers would not hesitate to give you a higher rating if they get satisfactory service.
Reply politely to customers on reviews, both satisfied and unsatisfied customers.
15. Utilize small opportunities
Advertise your website wherever and whenever possible, even in small opportunities, and let more people see your URL. Add it below your email signatures, customer receipts and bills, and keep your visiting card handy to give out to people when required. The probability of more people visiting your website is high when more people get to see your URL.
Get more page visits on Google (other search engines) today!
Do you want people to notice your website? Do you need help to rank your website high on Google to stay ahead of your competitor in sales and lead generation? Have a look into our SEO services, and let us assist you to rank higher on Google and get more organic traffic today.
For more detailed information on digital marketing companies in India, contact us at SAVIT Interactive.