Today there is a range of e-commerce websites giving tough competition to each other. Many hire e-commerce SEO services to rank on top of Google, while some implement the strategies followed from the Internet. 
An important aspect to not miss is that an expert's guidance will navigate your website better and in a limited time. 
Your e-commerce strategy has to be clever to compete in today's crowded market of online goods sales.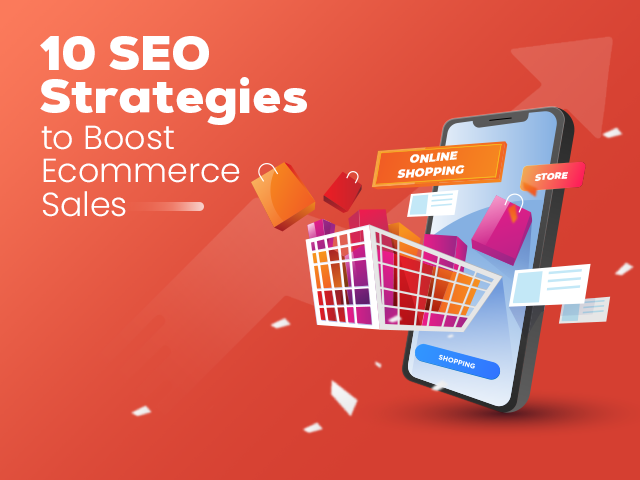 This blog will share 10 SEO techniques for eCommerce websites that can help you improve your site's traffic, increase sales, and push it to the top of the e-commerce chain. Let's get things started, shall we?
1. Keyword Research 
To determine the projected traffic and competition for each keyword, you'll need to choose precise long-tail keyword search words and phrases based on your company's goods, services, brand, industry, and target consumers' demographics.
You should include in your report a list of the keywords for which your competitors are currently ranking highly since this will give you a better sense of the phrases you should be targeting. 
2. Site Structure
When customers come to your e-commerce site, keep in mind that they are there to buy and not spend ample time on every product category if it is comprehensive. Your site's structure must be user-friendly (easy to navigate) to prevent excessive bounce rates.
3. Onsite SEO 
For an e-commerce site, the fundamental on-page SEO serves as the life-blood of the site's search rating and exposure on the Internet. Don't forget to optimise your Title Tags, Meta descriptions and URL names, and Rich Snippets.
4. Curate Blogs Frequently
Integrating a blog inside their e-commerce site is not an option for some online retailers. As a result, many people don't see the value of a blog and don't realise how much traffic it may generate. You've got it all wrong if you're one of those folks. Every website needs updated blogs since it signals to Google's search bots that fresh content on your site results in new pages being indexed. In addition, you may use a blog to discuss and elaborate on your goods and services, which can help drive visitors to your primary product or service website. Finally, you may optimise these sites for additional keyword phrases to boost your visibility in search engines like Google and Bing.
5. Use of Social Media 
In what ways may you benefit from social media? People indeed make exchange items, services, news and articles, suggestions, and so on, particularly if they find it interesting. Facebook, Twitter, Pinterest, LinkedIn, and Google+ are just a few well-known and widely utilised social networking platforms often shared.
Social media has become an essential aspect of the marketing strategy. It helps to reach a broader audience in a limited time slot. At Savit Interactive, an e-commerce SEO company in Mumbai, we have a team of social media enthusiasts who implement your e-commerce website strategies. 
6. Customer Satisfaction and Positive Reputation
The reputation of your e-commerce website plays a massive role in the buyer's purchase or not purchase decision. Responding to bad press in a rude or undiplomatic way or showing utter indifference to it might damage your brand's image. Respond to all reviews, positive and bad, with courtesy. Sometimes it's great to know that the business you bought a product from is reading your review and considering it.
7. Mobile Friendly 
Ensure that your website is responsive to mobile devices. Look into responsive web design technology to build a single version of a website that auto-adjusts to show correctly on all devices, even the oldest cell phones or a mobile-friendly site. The design of your website might be basic, but it must be able to open and browse on most mobile devices.
8. Content Marketing
Let your readers discover something fresh and catchy to keep them interested and reading on. We get a common question: "How can you accomplish this with an e-commerce site?" Just keep an eye on the market to whom you want to sell your goods. 
9. High Authority Backlinks
It's essential to remember that any links leading to your website should only come from well-known and trusted sources. Try to avoid rapid backlinks from spam networks or low-trust sites, which might ruin your website's visibility in search and place you in a Google. Many people have learned the hard way with Google's Penguin 1.0 and Penguin 2.0.
10. Awareness Through Social Media
Don't overlook the power of a well-designed Facebook, Pinterest, or Twitter page or backdrop for promoting your company's name or the goods and services you provide online. Make it personal to obtain more referral traffic and exposure from a specific target demographic, resulting in higher overall leads.
For e-commerce sites, have you come across any additional SEO best practices that have performed well? Let us know what you think. Do not hesitate to contact us for help with your website's traffic-boosting strategy. We at Savit Interactive – an e-commerce SEO company in Mumbai, would be more than happy to connect with you.